Moog introduces new D926 Series proportional valve for ultimate flexibility and durability
Diana Aoun | December 06, 2022
Moog Inc. recently announced its new D926 Series proportional valve, adding to its comprehensive portfolio of flow control valves. The valves are suitable for electrohydraulic control of position, speed, pressure and force in open and closed loop control systems. The robust design enables superior resistance to harsh operating conditions such as high vibrations and temperature.
The D926 Series valves are driven by two proportional solenoids with a spool-in-body design for high rated flows up to 1.93 m3/hr (8.5 gpm) at 5 bar (72.5 psi) pressure drop per land. The valve offers analog interfaces for command signal and spool position feedback. It is, however, equipped with modern electronics with a digital core that offers high energy efficiency while delivering high static and dynamic control performance.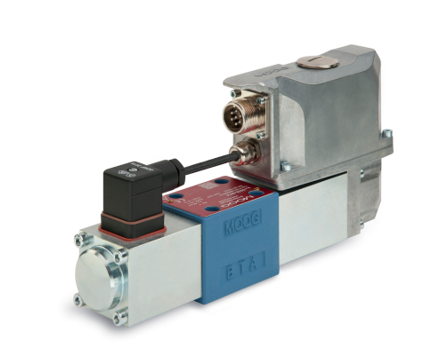 Source: Moog
Additional features include a 4/3-way design with multiple spool overlap options, including a center failsafe position, electronics on the solenoid for a reduced envelope size and added vibration resistance. In addition, a large variety of flow characteristics and signal options make the D926 easily configurable to suit different applications.
With superior resistance to vibration, temperature and contamination, the D926 Series Valves are especially suited for plastics machinery, heavy industry, die casting and the wood industry. The new valve is also ideal for applications requiring a high degree of precision control including marine, metal forming and presses, gas and steam turbines, and test-lab rigs.