FPT Industrial marks launch of carbon-neutral ePowertrain plant
Engineering360 News Desk | October 27, 2022
FPT Industrial has inaugurated its new ePowertrain plant in Turin, Italy. The carbon-neutral site is dedicated to the production of electric axles for heavy commercial vehicles (HCVs), electric central drives, and to the assembly of battery packs for light commercial vehicles and buses.
The facility is the first totally carbon-neutral Iveco Group plant, achieving its targets by offsetting its carbon dioxide emissions with the purchase of energy from renewable sources and carbon credits. In addition, the plant generates energy with solar panels installed on the façade and with innovative technologies, such as a mini-wind tower.
With a total area of 15,000 m2, the ePowertrain plant features three parallel production lines dedicated respectively to battery pack assembly, electric central drives and HCV electric axle production. At full capacity, it will produce over 20,000 electric axles and over 20,000 battery packs per year for light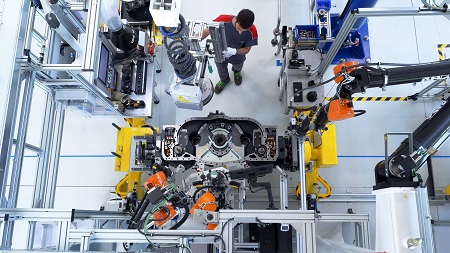 Source: FPT Industrial commercial vehicles, minibuses and buses.
Industry 4.0 technologies have been adopted across all areas to enable the automatic collection and analysis of all data essential to monitor and improve safety, quality and productivity. All production processes are based on highly automated warehouses for the management of components, and developed through electronically controlled assembly stations.
Next-generation technologies adopted include augmented and virtual reality, reducing the design time for production lines by simulating operational outcomes before physical installation; 3D printing and "Smart Observer" systems based on intelligent sensors; 3D scanners for metrology-grade measurements; 3D reality simulators and cooperative robots. These robots, together with automated guided vehicles, greatly improve ergonomics and safety, and make the operators' job easier and less stressful. Cloud quality checks allow instant detection of problems, while end-of-line checks certify the conformity of the product both in terms of configuration, performance and safety.
On the HCV electric axles line, a station with light signals supports the operator by clearly indicating which component is to be selected and where to mount it, thus helping achieve the zero-error target. On the battery assembly line, dielectric carpets protect operators against possible electric dispersions, while thermal imaging cameras automatically measure battery temperatures, immediately reporting any deviation from the norm.