Video: Heat battery to reduce fossil fuel reliance and emissions
S. Himmelstein | November 25, 2022
Rondo Energy is promoting thermal energy storage as a major component of industrial decarbonization efforts. However, the startup is pursuing the technology with a twist: instead of converting the heat back into electricity to return to the grid, just sell and exploit the heat itself.
The company is advancing "brick toasters" that store renewable energy as high-temperature heat, ready to be deployed throughout the day to deliver hot steam or heated air to industrial users. The approach seeks to replace fossil fuel-generated heat with a simple standalone thermal energy storage that transforms surplus electricity from solar farms or wind farms into heat.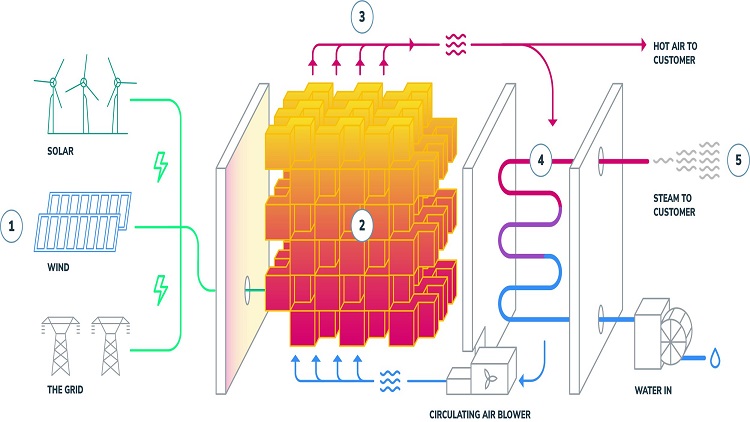 Source: Rondo Energy
The Rondo Heat Battery is a box of fire bricks, heated throughout by electric wiring like in a toaster to up to 1,500° C. Incoming air is heated by these superheated bricks and piped into the same heat network already in place at the customer's facility. The thermal energy storage material is an inert clay with proven ability to withstand heat at up to 1600° C, and the Rondo Heat Battery is designed to drop into existing facilities or power new-builds, offering a fast, low-cost pathway to decarbonization and reduced operating costs.
The technology is extremely energy-dense and compact, storing energy at the rate of 1 MWh per each square meter of land, able to store hundreds of megawatt-hours in thousands of tons of material, to deliver hot air or steam, occupying about a quarter of the land of a comparable lithium-ion battery.