Formula 1 innovations fueled by the world's fastest 3D printers
Jeremy Cook | October 17, 2022
Sponsored Content
A person standing next to a race car in a garage Description automatically generated with medium confidence Figure 1. In F1 racing, certain parts are especially well suited to customization with 3D printing. Source: Williams F1
3D printing, as of 2022, is now well established as a technology that can easily construct shapes that would have been impossible — or at the least very difficult — to make using traditional machine tools. Such technology is especially instrumental in the world of Formula 1 (F1) racing, where rapid prototyping, and the ability to make a shape in the exact optimal configuration is of the utmost concern — with little regard to cost or manufacturability.
While 3D printers are versatile in their ability to print one-off parts, the individual print jobs can actually be quite slow with a large print taking several days to produce a part. One might point out that 3D printing for F1 racing is done when the car is off the track. However, innovation during the presumptive off-season, like actual racing, takes place at a breakneck speed, in this case in order to keep pace with yearly rule changes and innovation from competing teams.
Formula 1: Efficient high-speed innovation
F1, the world's premiere auto racing series, has been growing in popularity both worldwide, and in the U.S. especially. This "sport of engineers" features not just extremely high speeds — peaking at well over 200 miles per hour, and maintained over curves with highly tuned aerodynamics, suspension and other car elements working as one — but extremely efficient design to squeeze every last bit of power out of the car's 1.6L hybrid V6 engine. Making this competition even more amazing is the fact that cars are not allowed to refuel over the course of the race. Pit stops are instead used primarily to change out tires, an entire engineering and strategic element unto itself.
Williams Racing, which is under new ownership after being sold in 2020, has been aiming to improve its standings in this elite arena with new drivers, as well as improved cars. Here, new car innovations are facilitated with the help of 3D printing techniques and the high-speed NXE400 printer from Nexa3D.
Ultrafast 3D-printing: Massive benefits
As with every engineering endeavor, even those with multi-hundred-million dollar budgets, F1 race car development is a series of tradeoffs. When using 3D printing, one of the biggest hurdles to innovation comes in the form of relatively slow print speeds. However, with the use of ultrafast 3D-printing technology, this tradeoff can be minimized dramatically.
Nexa3D offers masked stereolithography (mSLA) 3D printers that can produce parts up to 48 times faster than FDM, 12 times faster than SLA and five times faster than DLP and other mSLA printers. What this means in practical terms is that Nexa3D printers can produce designs at a rate of:
10 to 20 minutes for small print jobs
1 to 2 hours for medium print jobs
15 to 20 hours for large print jobs
The key to ultrafast printing starts with Nexa3D's uniform curing light source, which allows for consistent materials processing. As the print is lifted out of the vat of printing material, their proprietary lubricated sublayer photo-curing (LSPc) technology uses a self-lubricated membrane to create a no-stick zone between the printed part and the vat. This membrane also promotes resin replenishment during the process to every point on the print platform, whether the printed part is a mesh or solid object.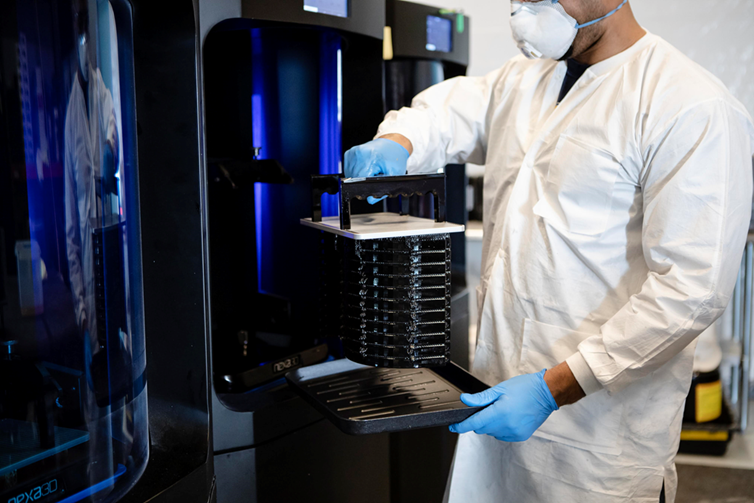 Figure 2. Nexa3D NXE 400s are capable of massive full build volume prints in less than 24 hours. Source: Nexa3D
This LSPc printing process can work with a variety of materials, and Nexa3D partners with other leading companies to help develop cutting edge resins for use with their mSLA printers. They also maintain an open materials platform for materials reference and sourcing. Nexa3D also supports their printing process with their xWash device to clean prints, and the xCure system to automatically cure parts to a perfect finish. These devices are especially designed to accommodate parts produced with the NXE400 but can work with any SLA or mSLA part that would fit into that printer's build volume.
Williams Racing F1 innovation with Nexa3D
Willams is using the advanced Nexa3D NXE400 printer for their cutting-edge innovation and testing needs. For their purposes, the dimensional accuracy, high resolution and excellent surface finish this machine offers is critical to producing realistic car prototypes. Ultrafast printing enables rapid iteration — even multiple iterations in one day — facilitating a rapid print/check/modify/print/repeat cycle, ultimately allowing for a level of refinement that wouldn't otherwise be possible in their limited timeframe. Williams also takes advantage of the xWash and xCure finishing machines to help facilitate excellent results.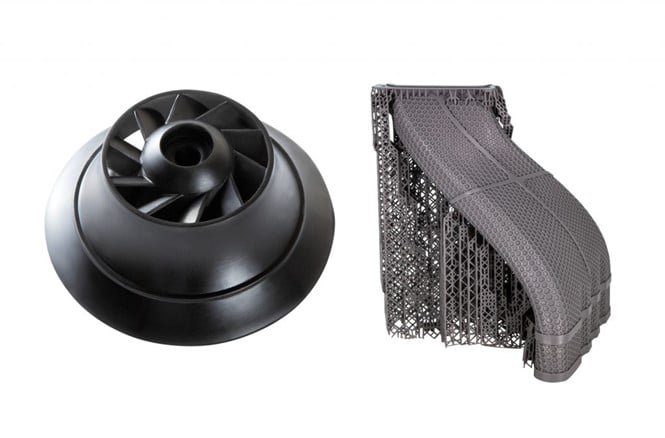 Williams Racing has already used the NXE400 to 3D print a number of wind tunnel parts. Photo via Williams Racing. Figure 3. Two examples of wind tunnel parts from Williams F1. Source: Nexa3D
In the context of F1 racing, certain parts are especially well suited to customization with 3D printing. As seen here, Williams has printed parts for aerodynamic wind tunnel testing, and being able to test such models in physical setup allows for massive race car innovations without surprises. Where 3D printing is perhaps even more of a perfect fit is in the realm of driver fit up. Whether this is a steering wheel assembly, drink system, mirror or anything else that might be subject to a driver's specific taste, such implements can be customized and physically tested in a way that can't be simulated. One could even compare several iterations side-by-side, or go back and review earlier iterations as needed.
Trickle down automotive engineering technology
While F1 racing is an amazing sport, only a relative handful of engineers and technicians work in this realm. However, this type of innovation serves not only to inspire future engineers who might choose to go into this field, but also as a testing ground for innovations that eventually find their way to consumer vehicles.
At the same time, automotive engineers working on consumer vehicles — and engineers in general — face similar challenges to those in the F1 space, even if they take place at a different scale. Consider that there's typically a first mover time-to-market advantage when one is working on a new product, and while everyone in F1 knows when the next season will start, a business competitor's product may be neck-and-neck with what you're trying to produce without your knowledge. In the automotive industry, there's also the typical yearly model refresh, which is more of a known quantity date-wise but can still be unrelenting if you hope to get the best out of your design changes.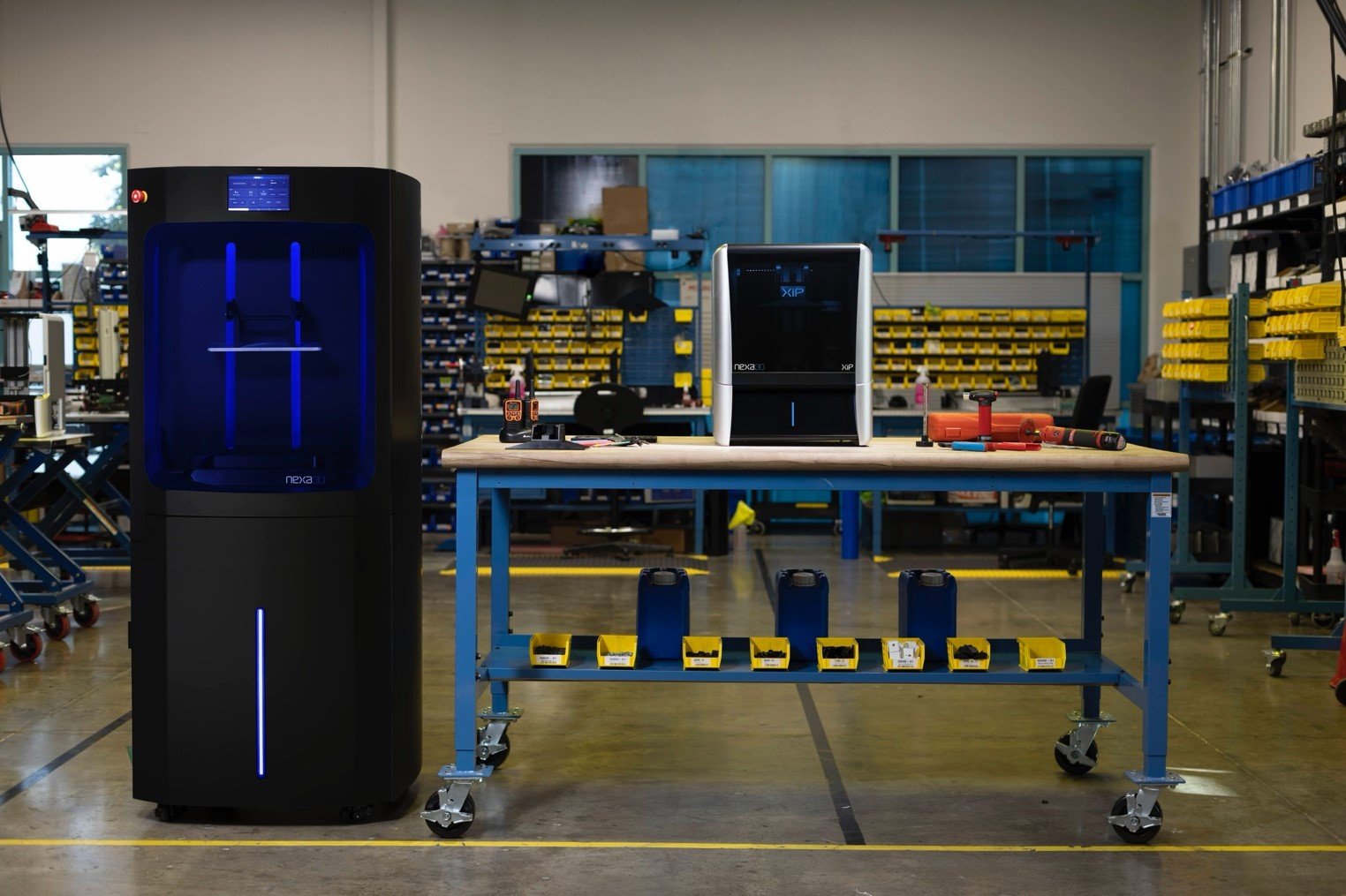 Figure 4. Nexa3D offers a range of polymer solutions including a desktop resin 3D printer, industrial 3D printers and a thermoplastic laser sintering solution. Source: Nexa3D
Nexa3D is a 3D printer manufacturer enabling ultrafast additive production, validated workflows and an open material platform. As discussed here, their proprietary LSPc 3D-printing technology allows for productivity gains of up to 20 times greater than other printing processes. Offerings include a range of polymer solutions, from the desktop XiP mSLA device with its 4.8L build volume; to the 17L NXE400 used by Williams Racing and the QLS820 SLS 3D printer, with a massive 49L build volume and tolerances in the injection mold range.
Nexa3D is headquartered in Ventura, California, and was founded in 2016 as a team of passionate additive manufacturing practitioners committed to digitizing the world's supply chain in a sustainable manner. Call (805) 364-5441 to see how Nexa3D can transform your 3D-printing speed and capabilities — whether for automotive racing or racing your competition to market. You can also find more information about Nexa3D's product offerings and capabilities at Nexa3D.com.