Student earns DOE award for nuclear reactor safety research
S. Himmelstein | September 30, 2022
The 2022 Innovations in Nuclear Technology R&D Award has been awarded by the U.S. Department of Energy's (DOE's) Office of Nuclear Fuel Cycle and Supply Chain to Caleb King of the Virginia Commonwealth University.
The annual scholarship, bestowed on students conducting and publishing nuclear power-related research,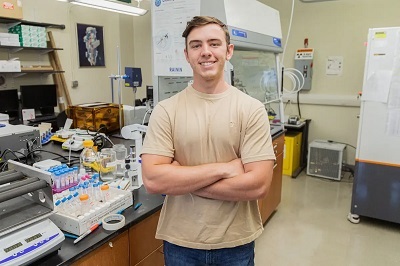 Caleb King earned the 2022 Innovations in Nuclear Technology R&D Award. Source: Virginia Commonwealth University recognizes King's work on advancing accident tolerant fuels to enhance reactor safety. King and his collaborators outlined the potential gaps in the literature about near-term ATF cladding concepts as these prove their potential for rapid implementation in commercial nuclear reactors. Topics covered include application technologies and effectiveness of chromium-coated zircaloy cladding, and relevant characteristics impacting the behavior of these future cladding designs.
The Nuclear Technology R&D Award program is designed to: 1) award graduate and undergraduate students for innovative nuclear-technology-relevant research publications, 2) demonstrate DOE's commitment to higher education in nuclear-technology-relevant disciplines and 3) support communications among university students DOE representatives.