Video: NASA's DART mission is a smashing success
S. Himmelstein | September 27, 2022
NASA's Double Asteroid Rendezvous Test (DART) probe slammed into Dimorphos, a 530 ft (160 m) in diameter asteroid 7 million miles (11 million kilometers) from Earth, at 7:14 PM EDT on September 26, 2022.
This first planetary defense test was designed to alter the orbit of the space rock about its larger asteroid companion Didymos enough to prove humanity could deflect a dangerous asteroid if one was headed for Earth.
The Didymos Reconnaissance and Asteroid Camera for Optical (DRACO) navigation, the only instrument aboard DART, operated in tandem with a sophisticated guidance, navigation and control system that is expected to enable the spacecraft to identify and distinguish between the two asteroids, targeting the smaller body.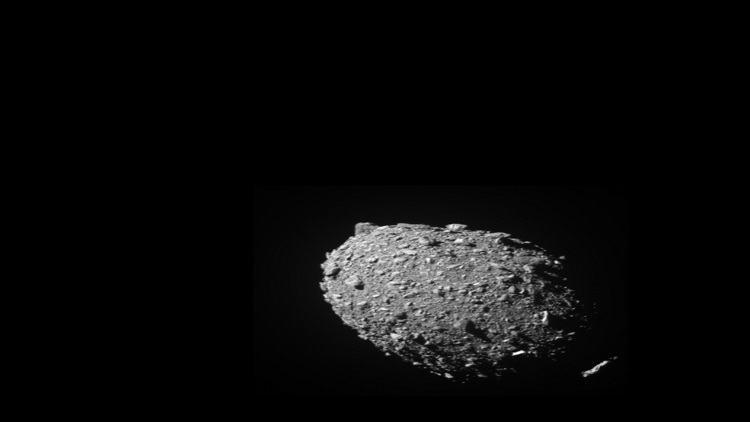 Dimorphos as seen by DART from a distance of 42 miles (68 km) and at 11 seconds before impact. Source: NASA/Johns Hopkins Applied Physics Laboratory
Researchers will now monitor Dimorphos using ground-based telescopes to confirm that DART's impact altered the asteroid's orbit around Didymos. The impact is expected to shorten Dimorphos' orbit by about 1%, or roughly 10 minutes; precisely measuring how much the asteroid was deflected is one of the primary purposes of the full-scale test.