The first natural gas truck in India rolls off the production line, powered by FPT Industrial
Engineering360 News Desk | September 16, 2022
At the beginning of September 2022 in Chakan, Pune, India, Blue Energy Motors launched India's first manufacturing facility for the production of liquified natural gas (LNG)-fueled trucks, whose first models will be powered by FPT Industrial "green" engines.
The new plant is an important milestone following the agreement signed between FPT Industrial, the global powertrain brand of Iveco Group, and Blue Energy Motors in July 2022 in Turin, Italy, during the Iveco Group's BEYOND event. Gerrit Marx, CEO of Iveco Group, and Sylvain Blaise, president of Iveco Group Powertrain Business Unit, presented details about the project during the official ceremony opened by the Ambassador of Italy to India, Vincenzo De Luca, in Chakan on September 12. They discussed the agreement between FPT Industrial and Blue Energy Motors, which supports the introduction of the first LNG trucks powered by FPT Industrial 6.7-liter engines to Indian roads by the end of 2022.
Both partners are committed to active and swift decarbonization in the commercial transport segment and share the same strong belief that LNG trucks are a sustainable option for the market.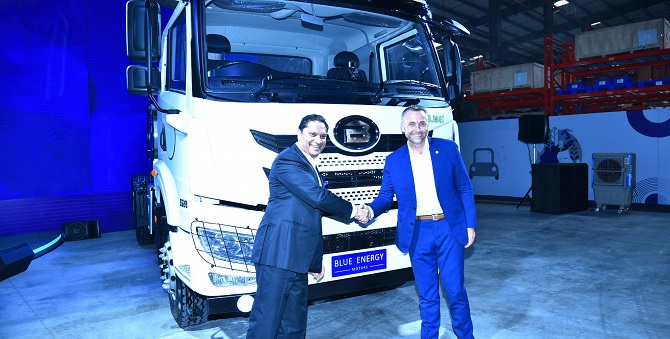 Source: FPT Industrial
The N67 NG is the most powerful natural gas engine on the Indian market and is compatible with compressed natural gas (CNG), LNG and biomethane. It uses stoichiometric combustion to ensure best-in-class fuel consumption and lower noise levels than diesel, with up to 40% fuel cost reduction compared to diesel equivalents in the Indian market, and 28% less carbon dioxide emissions.