Dairy byproduct eyed for greener adhesives, surface cleaners
Marie Donlon | September 23, 2022
Teams of researchers from the Fraunhofer Institute for Ceramic Technologies and Systems IKTS in Hermsdorf and TU Dresden are turning to a byproduct of the dairy industry to produce green adhesives.
According to the researchers, for every kilogram of cheese produced, 9 kg of the byproduct whey are also produced. In addition to being sometimes processed into other products including beverages, whey is also used in the making of pharmaceuticals and baby food when the proteins and lactose of the whey have been separated out, leaving behind molasses, which is both difficult and expensive to dispose of.
As such, the researchers devised a process for extracting ethyl acetate — a natural gas and petroleum derived colorless solvent used in the manufacture of adhesives, printing ink, varnishes and surface cleaners — from the leftover molasses.
To develop the separation process, researchers fermented the molasses in a ventilated bioreactor, allowing for aerobic conditions. The reaction creates a gas-vapor mixture that features ethyl acetate, which is then separated using composite membranes.
According to the team, the waste byproduct of this process was a mixture of gas and water vapor that can be safely released into the environment without issue.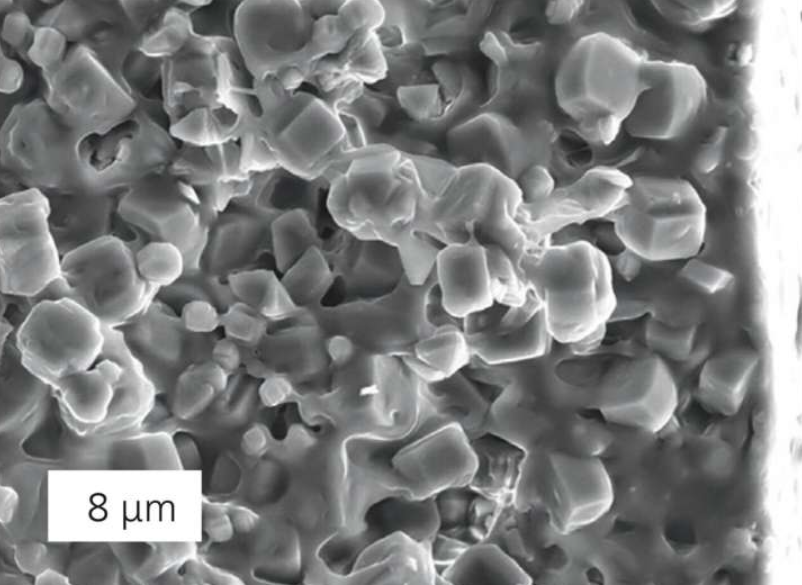 Scanning electron micrograph of a composite membrane. The ethyl acetate molecules diffuse through the pores of the zeolite layer, which are only 0.5 nm in size, to the other side of the membrane. Source: Fraunhofer IKTS
To create the composite membrane, the researcher used a combination of polymers and inorganic particles based on zeolite. "We use liquid silicone rubber as a polymer. This is mixed with zeolite (silicalite-1), applied to a supporting polyester fleece and cured. The membrane is only 10 µm thick in total and the pore size is 0.5 nm," the researchers explained.
The gas separation process is reportedly achieved by interactions occurring between the zeolite and ethyl acetate wherein the molecules are adsorbed by the zeolite and slide along the pore surfaces, which encourages them to diffuse through the composite membrane. Further, the application of high pressure is not necessary to "force" the ethyl acetate through the membrane.
"Creating a certain partial pressure difference is sufficient to initiate the chemical reaction and subsequent diffusion," the researchers concluded.
The researchers are also eyeing the environmentally friendly process for industrial applications.