Large-capacity centrifugal chillers consume low-GWP refrigerant
Engineering360 News Desk | August 24, 2022
A new series of large-capacity centrifugal chillers adopting the chlorofluorocarbon (CFC)-free HFO-1234yf refrigerant has been developed by Mitsubishi Heavy Industries Thermal Systems Ltd. The constant-speed JHT-Y and the inverter-equipped JHT-YI will use this refrigerant, which is characterized by zero ozone depletion and a global warming potential (GWP) below 1.
Both models feature capacities ranging from 300 refrigeration tons (RT) to 5,400 RT, with the maximum capacity representing a 400 RT increase over the GART-ZE/ZEI series launched in 2017. The JHT-Y and JHT-YI are the first centrifugal chillers with capacities up to 5,400 RT offered commercially in Japan to feature a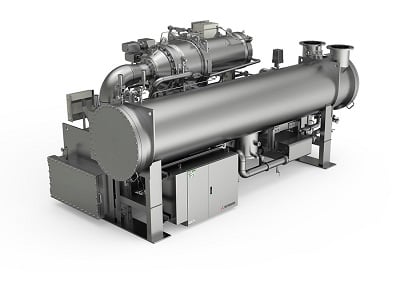 low-GWP refrigerant. Together with the ETI-Z series of centrifugal chillers in the small-to-medium capacity range launched in 2015, MHI Thermal Systems will now offer a full lineup of low-GWP refrigerant models in variations spanning from 150 RT to 5,400 RT.
The series also adopts a new type of compressor. Increasing the variety of models enables selection of the optimal compressor to match the output of the chiller and to realize high performance throughout the capacity range. The constant-speed model features a rated coefficient of performance of 6.9, providing one of the world's highest levels of energy efficiency together with compact size. Chillers in the new series can also be controlled with supreme precision using the latest microcomputer operation panel, and both the constant-speed and inverter models can respond to diverse applications including low-temperature, heat-pump and heat-recovery specifications.