Video: Sand-based energy storage system switched on in Finland
S. Himmelstein | August 17, 2022
Polar Night Energy and energy utility Vatajankoski, both based in Finland, have constructed a sand-based thermal energy storage system. The commercial high temperature heat storage offers a potential solution for renewable energy storage and is now producing low emission district heating for the city of Kankaanpää in western Finland.
Sited adjacent to a Vatajankoski power plant, a 4 m-wide and 7 m-high insulated steel tank is filled with 100 tons of readily available sand. Excess electricity from renewable energy sources is harnessed to heat the sand, which can be maintained at around 500º C for months. The system offers 100 kW of heating power and 8 MWh of energy capacity, and Vatajankoski uses the heat provided by the storage to prime the waste heat recovered from their data servers, which are intended for high-performance computing, to supply its local district heating network.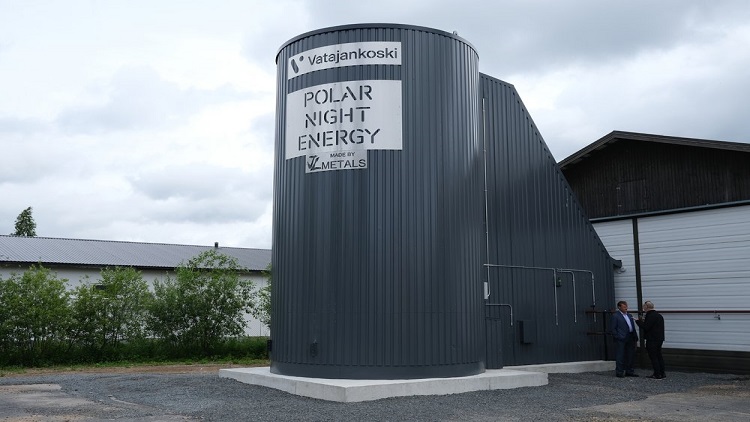 The world's first commercial sand battery system is now in operation in western Finland. Source: Polar Night Energy
According to Polar Night Energy, setup costs for the fully automated system are less than €10 (U.S. $10.27) per kWh. The company plans to scale up the technology to realize installations capable of 20 GWh of energy storage with the sand medium heated as high as 1,000° C.