Cosen Saws leading edge sawing solutions on display at IMTS 2022
Engineering360 News Desk | August 11, 2022
Cosen is bringing their band saws to the International Manufacturing Technology Show (IMTS) 2022. IMTS takes place from September 12 to September 17 in Chicago, Illinois, at McCormick Place. Whether a saw is needed to automate a warehouse or for various cuts by many different operators, with over 140 configurable options that cut an extensive number of materials at every size, Cosen Saws provides a solution.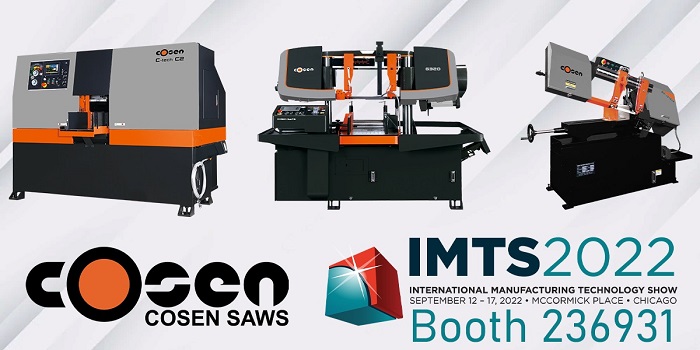 Source: Cosen Saws

Cosen Saws will be displaying these saws at Booth 236931:
V-2026NC — Semi-automatic tilt-frame band saw
Capacity: 20 inches x 26 inches
Cosen's V-2026NC is a vertical tilt-frame saw built with the capability of cutting angles of up to 60°. The V-2026NC comes standard with an automatic angle adjust built into the HMI to help make the cutting process simpler. It is an excellent option for any fabrication production shop looking to transition into the vertical saw market.

G320 — Fully automatic horizontal dual column band saw
Capacity: 12.8 inches x 15 inches
Considered the premier saw of Cosen, the G320 is a combination of rigidity, state-of-the-art software, technology and affordability. The saw utilizes a true stainless steel dual column design and is perfect for cutting in high production settings. Paired with Cosen's V_Drive technology, the G320 can easily improve operator efficiency and cut results, as well as help reduce cost per cut.

C-Tech C2 — Fully automatic enclosed horizontal dual post band saw
Capacity: 10.2 inches x 11.8 inches
The C2 is a fully enclosed saw that utilizes a heavy-duty dual post design, in which the saw head travels along a linear guide system. This feature provides greater rigidity and stability during cuts. It also gives the saw frame a solid base, ensuring the smoothest feeding, highest precision and lowest friction guide system available. The C2's enclosed design also makes it the perfect option for those looking to emphasize safety.

SH-500M — Semi-automatic horizontal scissor style, mitering band saw
Capacity: 11 inches x 19.7 inches
The SH-500M is the most popular semi-automatic machine offered by Cosen. This machine can miter cut up to 60°. Whether cutting single or multiple pieces, this saw is able to meet the diverse needs of any shop with its relatively small footprint. It has a large capacity and is easy to use, making it perfect for a variety of materials and any operator.

MH-1016JA — Manual horizontal scissor style band saw
Capacity: 9 inches x 14.6 inches
This foundational machine has been manufactured by Cosen for over thirty years. The MH-1016JA is designed for the shop that has multiple users and needs to cut a variety of structural or solid materials. This saw is a no-frills option that ensures reliability, accuracy and a high level of performance.

VCS600 – Vertical contour band saw
Capacity height: 12 inches
Capacity throat: 23.5 inches
Cosen's VCS saw is designed with all your tool room and production needs in mind. The robust table, 3 HP motor and blade are all in one compact footprint. All tool, die and plate work can now be within reach inside your facility.

All of these saws will be on display and Cosen experts will be there to present live demonstration on any machine. They will also be available to answer any question and help customers find the best sawing solution for any application.