BladeBug wind turbine robot gets new coat of armor
Marie Donlon | August 10, 2022
A new iteration of a robot capable of performing inspection and maintenance tasks on offshore wind turbine blades has been developed with a waterproof outer shell designed for extreme conditions.
The six-legged BladeBug robot from the company of the same name can remotely traverse wind turbine blades, scanning them for inconsistencies, imperfections and cracks — all out of the line of sight and now featuring a protective coating. Once inspection of the blade is complete, the robot's findings are reported to human employees located on shore.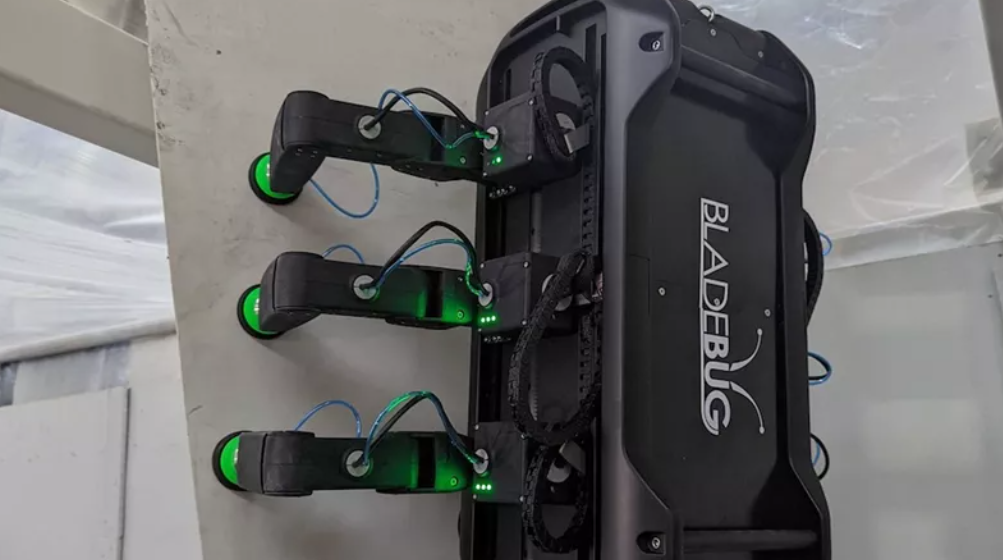 Source: BladeBug
The BladeBug adheres to vertically positioned blades via vacuum-padded feet and will potentially reduce the need to deploy humans offshore. This could reportedly result in a reduction in the cost of wind turbine blade inspection by roughly 30%, according to earlier reports.
In addition to keeping human personnel from having to walk on wind turbine blades and consequently exposed to hazardous conditions, the new BladeBug design is similarly protected from the elements with its protective outer coating.
The outer coating upgrade was made possible with a grant that Robots for Inspection Network (RIMA) awarded last year to BladeBUG and EGGS Design.
The enhanced model is now undergoing a series of tests including being hung on a real blade, and testing of its body movement and walking gait, according to the company.
Watch the trial of an earlier iteration of the BladeBug in the accompanying video that appears courtesy of BladeBug.