Video: DURABIO, a plant-based bio plastic, adopted for industry's first biomass helmet
S. Himmelstein | August 04, 2022
DURABIO, a bio-based engineering plastic developed by Mitsubishi Chemical Group, has been adopted for the entire body of the biomass plastic helmet "pervio BP" manufactured by Starlite Co, Ltd. in Japan.
DURABIO combines most of the properties of polycarbonate and of poly-methacrylate with isosorbide, a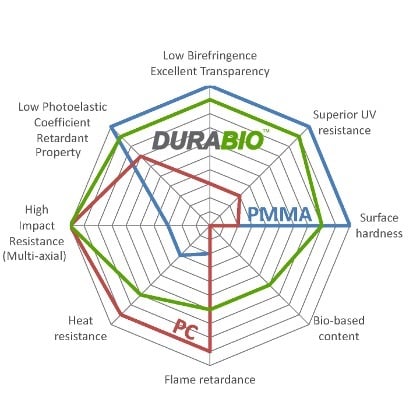 DURABIO is engineered for applications requiring exceptional durable transparency and visual appearance with scratch and impact resistance as well as chemical inertness. Source: Mitsubishi Chemical Group plant-derived raw material. Its performance exceeds that of any other common engineering plastic typically used for helmets in terms of scratch resistance, color retention, durability and heat resistance. The material has been adopted for the body and peak of the pervio BP helmet sold by Starlite, which is the first helmet to receive a biomass plastic mark.
The use of biomass plastic made from plant-based materials such as DURABIO can reduce the consumption of petroleum and contribute to the reduction of greenhouse gases implicated in global warming, since the plant that makes the raw material absorbs carbon dioxide during the growth process. Mitsubishi Chemical Group will continue to focus on the development of DURABIO toward the realization of carbon neutrality.