Copper nanowire spray to combat the spread of diseases
Marie Donlon | August 18, 2022
Scientists from U.S. Ames National Laboratory, Iowa State University and University at Buffalo have developed an antimicrobial spray that deposits a transparent layer of copper nanowires on high traffic, public surfaces.
The team of scientists developed two types of the sprayable copper nanowires — the first composed entirely of copper nanowires (CuNWs) and the second composed of copper-zinc nanowires (CuZnNWs).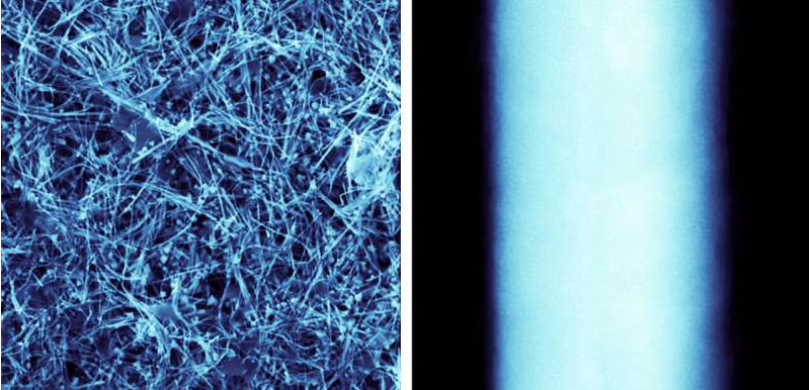 Left: Scanning electron microscopy image of the CuNW network on a copper-sprayed surface. Right: Up-close image of CuNW nanowire, which is about 60 nm in diameter, approximately 100x smaller than a human hair. Source: U.S. Department of Energy Ames National Laboratory
To make the formulation sprayable, the researchers added water to dilute previously developed copper ink. Once developed, the spray was successfully applied to plastic, glass and stainless steel surfaces.
Relying on copper's ability to inactivate viruses, bacteria, fungi and yeasts, the scientists demonstrated in the lab that the copper nanowire sprays could inactivate a virus in just 20 minutes after spraying.
Likewise, the scientists compared the new iterations of copper ink — CuNW and CuZnNW — finding that CuNW inactivated viruses faster than CuZnNW within the first 10 minutes of spraying. Yet, CuZnNW demonstrated a steadier and more sustainable release of copper ions, compared to CuNW, making the coating more effective for longer, according to the scientists. As such, the team declared that the CuZnNW spray outperformed CuNW based on its antimicrobial properties.
The article, "Sprayable copper and copper–zinc nanowires inks for antiviral surface coating," was published in the journal RSC Advances.