Yanmar launches new range of portable diesel water pumps now EU Stage-V compliant and CE marked
Diana Aoun | July 30, 2022
Yanmar has re-launched its popular Yanmar Diesel Pump (YDP) series of portable diesel water pumps to accommodate water solution requirements worldwide. Well-equipped with emission regulated air-cooled Yanmar L series engines, the YDP pumps are heavy-duty, CE certified and available in both recoil and electric starting options.
The new YDP series offers enhanced levels of durability and reliability, even under extreme operating environments. The new models have an output range of 500 to 1,750 liters per minute (132 to 462 U.S. gpm) and are ideally suited to sectors such as construction, agriculture and marine, as well as day to day water pumping applications.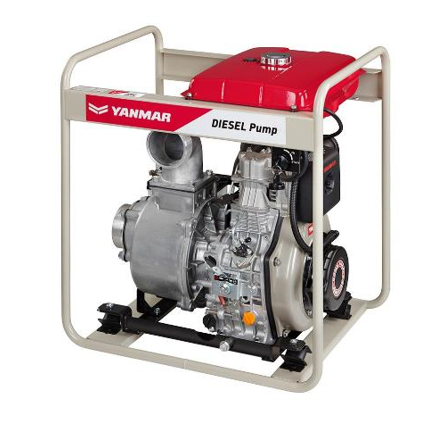 Source: Yanmar
The YDP series range in bore size from 2 inches to 4 inches for fresh, semi-trash and trash water. It has a suction lift capacity of 7 m and able to pump liquids with varying characteristics and content from fresh water to liquid with significant amounts of debris. A wheel kit option is available for ease of transportation on site, and a large 13 liter diesel tank enables continuous and extended operating hours for as long as eight hours on a full tank.
The pump comes in a cast iron construction and cast steel impellers and is equipped with reliable Yanmar L series vertical air-cooled diesel engines that achieve a lower level of emission levels. The YDP's CE certification is a key European conformity mark that represents compliance with European safety, health and environmental protection standards.