Distech controls announces the launch of Smart Air Control Valve solution
Diana Aoun | July 29, 2022
Distech Controls has launched its new Smart Air Control Valve solution, which is designed to replace a traditional Variable Air Volume (VAV) box. The new solution offers enhanced airflow control accuracy across a wider operating range and delivers improved energy savings. The Smart Air Control Valve is an innovative packaged air control solution that can achieve a 100:1 turn down ratio and measure airflows as low as 1.5 cfm while still guaranteeing the same comfort and airflow requirements.
The Smart Air Control Valve solution can measure and control airflow more effectively than traditional VAVs, which have limited efficiency (less than 30% of their maximum airflow). This precise control and extended airflow operating range eliminates the need for multiple VAV box sizes and enables the standardization and simplification of certain tasks.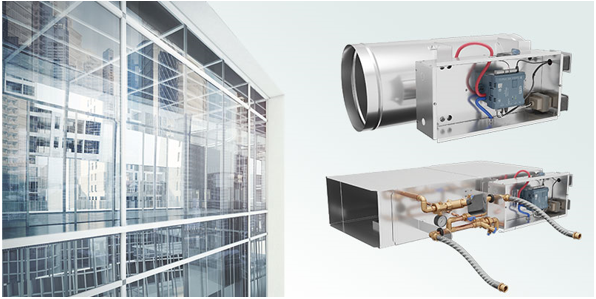 Source: Distech Controls
The Smart Air Control Valve comes fully assembled with a factory installed ECLYPSE controller. This combination reduces installation time and complexity by reducing or eliminating controller mounting, programming, commissioning and air balancing time.
The Smart Air Control Valve has been uniquely engineered to provide high turndown and low flow accuracy, which standard VAV solutions typically struggle to achieve. This can change the way HVAC systems are designed and operated, resulting in multiple benefits such as simplified system design with standardization of box sizes, low velocity system design that increase energy savings and reduced noise, optimized pressurization control of spaces and more. Overall, the Smart Air Control Valve has the potential to greatly improve the energy performance of buildings.