Quick detection of COVID variants in wastewater
S. Himmelstein | August 02, 2022
New analytical and software tools quickly provide data on coronavirus variants present in wastewater. Analysis of a small sewage sample enables accurate determination of the genetic mixture of SARS-CoV-2 variants, the agents responsible for COVID-19, present within a population and identifies new variants of concern up to 14 days before traditional clinical testing.
The slow and costly process of sequencing virus genomes from patients is replaced with a sequencing data library and algorithm devised by Scripps Research and University of California, San Diego (UCSD), in collaboration with the San Diego Epidemiology and Research for COVID Health (SEARCH). Researchers deployed 131 wastewater autosamplers to collect wastewater from 343 buildings on the UCSD campus and 17 public schools in San Diego school districts and acquired samples from large wastewater treatment facilities in the county. More than 20,000 wastewater samples were analyzed, leading to improved methods for concentrating viral RNA in wastewater, which are now being widely used by public health labs worldwide.
After quantifying viral variants from the sequencing data, a library of barcodes was developed that identify SARS-CoV-2 variants based on short snippets of RNA unique to each variant. An open access computational tool was also designed to sift through the wastewater-derived genetic data to find these barcodes.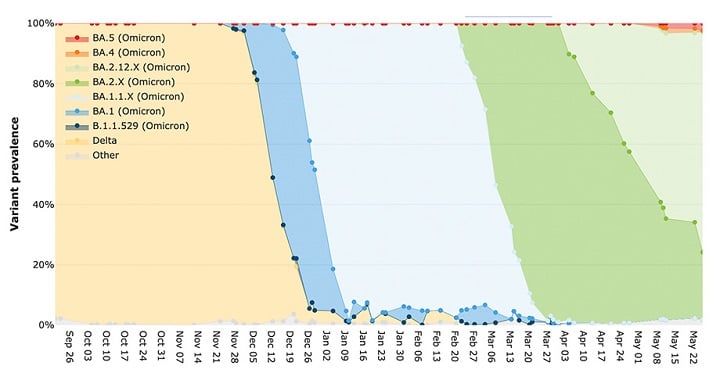 Results of the strategy for analyzing wastewater to monitor the prevalence of different SARS-CoV-2 variants over time are presented for San Diego, September 2021 to May 2022. Source: SEARCH Alliance
In analyzing wastewater samples and comparing the results to clinical data collected from around San Diego, the tool was observed to detect variants of concern, including Alpha, Delta and Omicron, in wastewater up to 14 days before it was reported clinically. The Mu (B.1.621) variant was also detected in wastewater four weeks before its first clinical detection on the UCSD campus.
The SARS-CoV-2 variant tracking strategy described in Nature might also prove of value in monitoring other human pathogens.