US energy job growth outpaces overall employment
S. Himmelstein | August 16, 2022
Employment in the U.S. energy sector has rebounded after sharply declining in 2020 due to the COVID-19 pandemic and subsequent economic fallout. In 2021, energy jobs grew 4.0% from 2020, outpacing overall U.S. employment, which climbed 2.8% in the same period.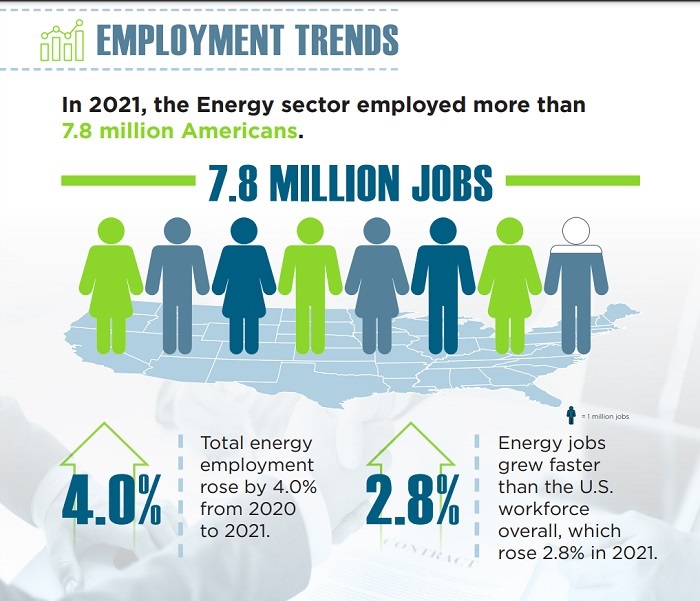 Source: U.S. Department of Energy
According to the 2022 U.S. Energy and Employment Report issued by the U.S. Department of Energy, the energy sector added more than 300,000 jobs, increasing the total number of energy jobs from 7.5 million in 2020 to more than 7.8 million in 2021. Net-positive employment opportunity growth is indicated for the electric power generation, motor vehicles, energy efficiency and transmission, distribution and storage industries.
Electric vehicle jobs increased by 26.2%, adding 21,961 new jobs.
Hybrid electric vehicle jobs increased 19.7%, adding 23,577 new jobs.
Solar energy jobs increased by 5.4%, adding 17,212 new jobs.
Wind energy jobs increased by 2.9%, adding 3,347 new jobs.
Energy efficiency jobs increased by 2.7%, adding 57,741 new jobs.
Transmission, distribution and storage jobs increased by 1.9%, adding 22,779 new jobs.
The three states with the highest energy job growth numbers overall were Michigan (35, 463), California (29,429) and Texas (30,903).
Job growth is expected to continue in the motor vehicle, power generation, energy efficiency, and transmission, distribution and storage industries in 2022.