First industrial scale carbon capture plant in the UK
S. Himmelstein | July 29, 2022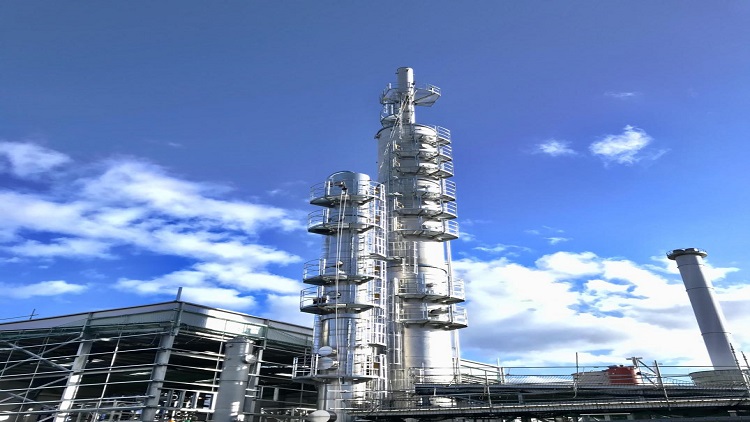 An amine-based fluid captures carbon dioxide in absorber columns. Source: Tata Chemicals Europe
The first industrial scale carbon capture and utilization plant in the U.K. has been established by Tata Chemicals Europe. The facility in Northwich is expected to capture 40,000 tons of carbon dioxide annually and reduce the company's carbon emissions by over 10%.
The CO2 captured from the site's 400 MW heat/96 MW electricity cogeneration plant flue gas emissions will be purified to food and pharmaceutical grade and used as a raw material in the manufacture of sodium bicarbonate. The Advanced Amine Technology system supplied by Pentair cools and scrubs the gas, followed by CO2 capture in a 48 m-tall absorber column where flue gases are mixed with an amine-based fluid.
The CO2-rich liquid is then transferred from the absorber to a stripper column and is heated with steam from the cogeneration plant. This process causes the CO2 to be released, leaving the stripper as a gas with a purity of more than 99.9% and suitable for high purity applications.
Tata Chemicals Europe expects to produce up to 130,000 tons of high purity sodium bicarbonate, which is used in hemodialysis, food and animal feed processing and many other applications, with this decarbonization solution.
Managing director Martin Ashcroft said, "The completion of the carbon capture and utilization demonstration plant enables us to reduce our carbon emissions, whilst securing our supply of high purity carbon dioxide, a critical raw material, helping us to grow the export of our pharmaceutical grade products across the world."