Biomedical implant elasticity, durability to benefit from new alloy
S. Himmelstein | May 31, 2022
A new biomaterial offers scope for improving the flexibility and durability of human bone replacement implants. The super-elastic cobalt-chromium-based bioalloy formulated by researchers from the Czech Academy of Sciences and Tohoku University, Japan, also poses fewer health risks relative to available metal-based bone implants as nickel, a common allergen, is not incorporated.
To reduce the Young's modulus gap between human bone and the metal used for medical implants and thereby increase material flexibility, a cyclical heat treatment technique was applied to prepare large single crystals sized several centimeters. The resulting cobalt-chromium-aluminum-silicon alloy demonstrated a 17% strain recovery rate, double that of commercial titanium-nickel shaped memory alloys. The Young's modulus of the new biomaterial was extremely low at 10 gigapascals to 30 gigapascals, resembling the flexibility of human bones.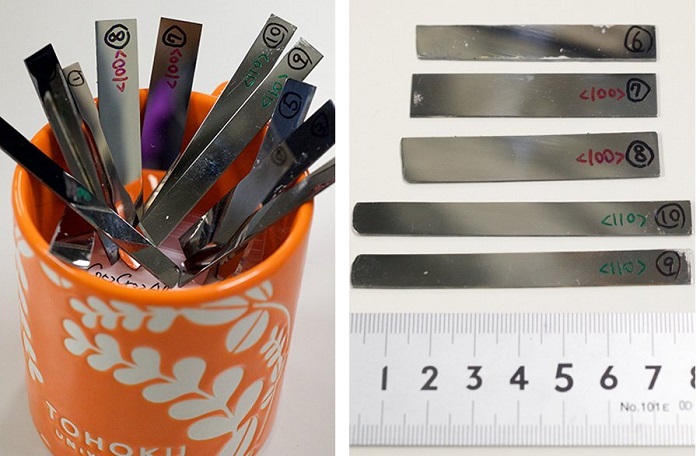 The new metal alloy offers desirable properties for medical implants. Source: Xiao Xu et al.
The biomaterial with high wear resistance described in Advanced Materials is considered a promising candidate for biomedical applications.