Video: New bio-glue may replace sutures, staples and other adhesives for wound-healing
Marie Donlon | May 24, 2022
A hydrophobic (water-hating or water-repelling) fluid capable of displacing the body fluids surrounding an injury, thereby encouraging instant sealing and healing of an injury, has been developed by a team of researchers led by the University of Manitoba in Canada.
Designed for use in emergency and rescue operations, the so-called bio-glue promises to replace current adhesives — fibrin glue, for instance — used for emergency wound sealing applications. According to the research team, fibrin glue does not displace the fluid surrounding an injury, which prevents adhesion and often results in detachment within an hour or two of application — which could prove fatal particularly when used to seal vital organs.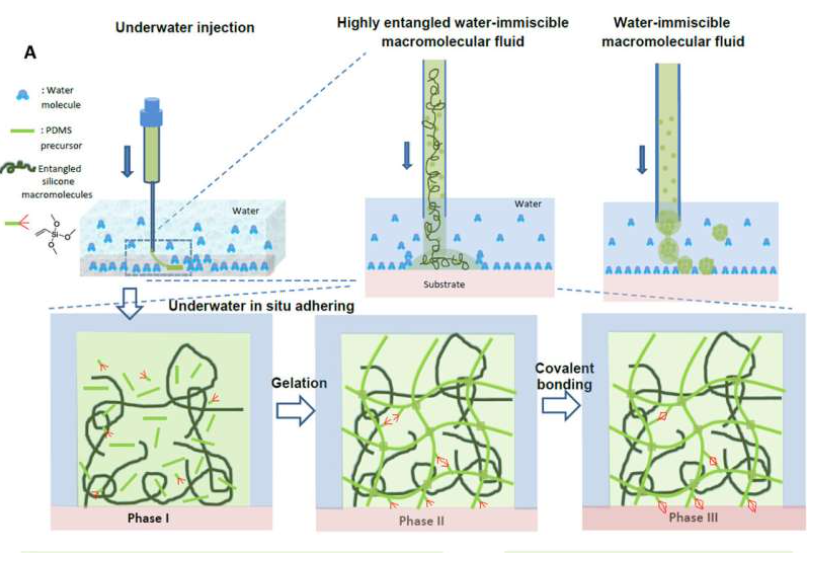 Underwater adhesion mechanism illustration of UIHA adhesive. (A) The in situ adhesion process of UIHA underwater, (B) the chemical reaction scheme inside UIHA and at the interface between UIHA and substrate, and (C) the proposed biomedical applications of UIHA. Unlike small molecules, gelation of macromolecular fluids shows obvious chain length dependence of the silicone fluids. Three types of silicone fluids with different viscosities (molecular weights), namely, silicone 500,000cs (silicone 500k), silicone 10,000cs (silicone 10k), and silicone 200cs (silicone 200), were chosen. Silicone 500k has a weight average molecular weight of ~260 kDa, much higher than its critical entanglement molecular weight (29 kDa; Mc,silicone), while the molecular weights for silicone 200 and silicone 10k are ~9.5 and ~60 kDa, respectively. Source: Science Advances (2022). DOI: 10.1126/sciadv.abm9744
Conversely, the silicone-based bio-glue reportedly forms a strong bond with nearby tissue that prevents detachment, according to the researchers. This is reportedly due to silicone's failure to absorb water from tissue, which subsequently enables it to stick.
"Underwater adhesion of materials is challenging since the boundary water cannot be displaced so that the adhesive can contact the underlying tissue. Many bio-adhesives actually absorb water instead of displacing it," explained the team.
During trials of the bio-glue, the team successfully sealed a punctured lung, heart, artery and even a fractured skull.
The researchers suggest that this development may one day mean the end of staples and sutures used for wound healing.
The study, Gelation of highly entangled hydrophobic macromolecular fluid for ultrastrong underwater in situ fast tissue adhesion, appears in the journal Science Advances.
For more on the bio-glue, watch the accompanying video that appears courtesy of the University of Western Ontario.