Quadcopter drone features suction cup for adhering to marine life
Marie Donlon | May 30, 2022
Scientists from China's Beihang University, in conjunction with teams from Imperial College London and Swiss Federal Laboratories for Materials Science and Technology, have developed a quadcopter drone that can easily transition between air and water and that features a suction cup to attach to marine life.
To mimic the remora fish, which also features a suction cup-like disc to attach to sharks, whales and other fish to conserve energy, the researchers designed the quadcopter using a series of layers, pumps and channels.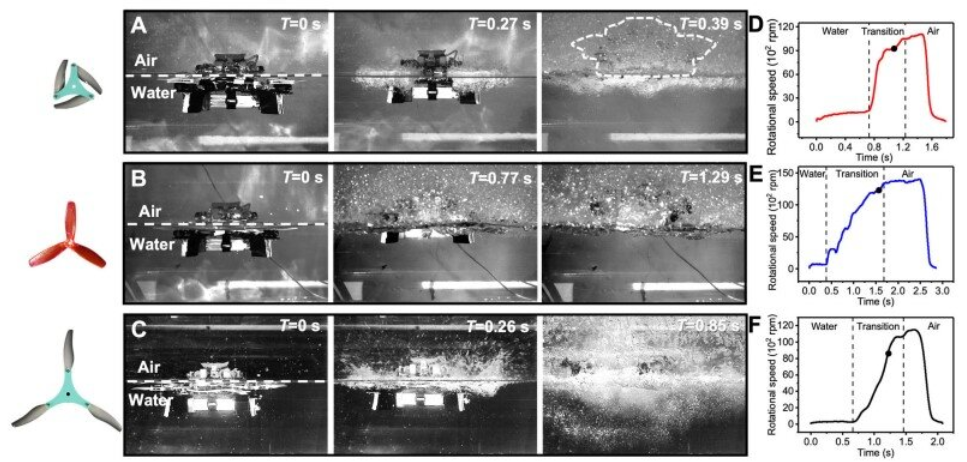 Robot transition and propeller speed versus time during the transition. Images of the robot with self-folding propellers (A), commercial propellers (B), and fixed-unfolded propellers (C) taking off from the water at various time instants in a laboratory water tank. The average rotational speed and total transit time of the different propellers vary across propeller configurations. (D-F) The range between the two black dashed lines is the boundary transition period. Source: Science Robotics
Consisting of four layers, the top layer of the quadcopter is flexible while the remaining underlayers are more rigid. These underlayers also feature small channels that can be pumped full of water. This design enables the quadcopter to adhere to surfaces — both wet and dry.
Meanwhile, the design of the quadcopter also includes a small motor for pumping water into and out of the disc and another for controlling its angle of attack. The waterproofed drone is equipped with propellers designed to automatically fold when introduced to water.
The drone is detailed in the article, Aerial-aquatic robots capable of crossing the air-water boundary and hitchhiking on surfaces, which appears in the journal Science Robotics.