St. Mary's University will be home to the tallest energy-generating solar facade in North America
Amy J. Born | May 25, 2022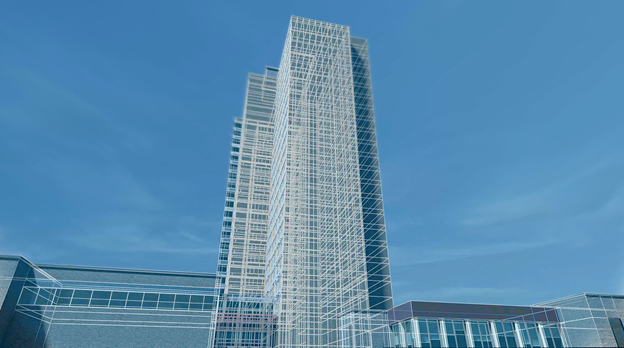 Artist rendering. Source: Mitrex
The tallest building-integrated photovoltaic (BIPV) façade (the largest micro-grid application in North America) is planned for the student residence at St. Mary's University (SMU) in Halifax, Nova Scotia. Toronto-based Mitrex, a manufacturer of building-integrated construction industry products that generate sustainable and renewable electricity, is developing this decentralized approach to energy resources, along with EllisDon, Dillon Consulting, DSRA Architects, Markland Construction and BMR Structural Engineering.
The electricity this decentralized energy source provides synchronously operates and connects to the grid, and can also function on its own when disconnected from the grid. Mitrex refers to this as "island mode," because of its resilience to changes in technical or economic conditions.
This project, set for completion in 2023, takes SMU much closer to reducing the structure's carbon footprint with solar energy generation. The south façade retrofit will have over 6,000 square feet of solar cladding and accents of vertical, semi-opaque solar glass integrated into the windows. The traditional and modern elements will be balanced with a mix of school colors and a subtle reveal of solar technology.
Mitrex specializes in solar integrated building materials
"Projects like the SMU retrofit with other like-minded establishments can effectively showcase the vast opportunities offered by new technologies in the building and construction sector," says Mitrex CEO Danial Hadizadeh. "The building community needs to think of micro-grids as a must and not an option and rethink their contributions to carbon emissions on every level from carbon used to make the products to powering the structure post-construction. Integrated solar energy is the future—it has already started to replace outdated solutions that only add to global warming."
Construction operations and building materials account for 40% of annual global carbon emissions, with expectations for that share to increase. Mitrex's renewable building materials provide solutions for builders, architects, and owners. SMU's residence project shows the possibility of transforming structures into energy-generators.