Emerson's TopWorx PD series smart valve positioners minimize costly downtime
Diana Aoun | May 27, 2022
The Emerson TopWorx PD series smart valve positioner delivers an intelligent, reliable and flexible solution for valve control using non-contacting sensor technology. This new series of compact, smart valve control devices communicates with advanced protocols including HART and can be certified for hazardous areas. Low air consumption and fast response deliver efficient operations, providing a one-stop solution for both standard and heavy-duty conditions.
Smart communication is enabled via a 4-20 mA loop signal as well as available open/close discrete inputs. Thanks to the use of contactless internal sensors, the PD series eliminates wear, therefore reducing costly maintenance. Easy field calibration and adjustment is enabled via the LCD interface and the push button or magnetic key controls that facilitate local control without the need to remove the enclosure cover.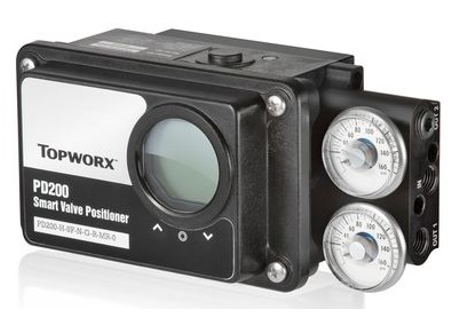 Source: Emerson
The Topworx PD series uses Hall-effect contactless position detection to maximize reliability. Plant productivity and safety are improved with the help of two PNP alarms that can be configured throughout the full displacement range. In addition, the PD series has been constructed to withstand a variety of environmental conditions while maintaining and compact and lightweight design.
The Topworx PD series allows for quick and simple installation on rotary and linear actuators in many applications. The same solution can provide precision control on both single- and double-acting actuators.
The PD series is suitable for use in oil and gas, chemical, industrial energy, on-site utilities, power generation, pulp and paper, waste and wastewater and food and beverage applications.