Vogelsang presents its new industrial pumps for media with high demands
Diana Aoun | May 26, 2022
Vogelsang recently launched two new highly efficient rotary lobe pumps to complement its industrial pump portfolio – the EP and VY series. The new pumps are made from a single-piece housing designed to optimize flow and can be equipped with a variety of sealing systems, making them highly versatile in demanding areas such as the oil, gas and chemical industries.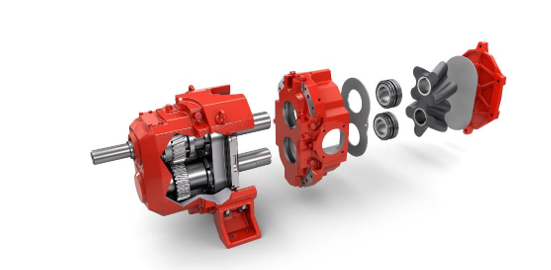 Source: Vogelsang
The EP series rotary lobe pumps are designed for extreme conditions and constant high-pressure performance. A heavy-duty gearbox allows for a uniform pressure output of up to 18 bar (261 psi), making it a one of a kind on the market today. EP series pumps consist of one-piece housing and reliably pump abrasive, chemically aggressive and explosive flow media at temperatures of up to 200° C (392° F). Helical gears in the gearbox ensure smooth performance and reduce noise emissions. Pulsation-free conveying reduces wear on the adjacent pipeline to a minimum.
Vogelsang has also equipped its EP series with an AirGap for high operational reliability. The AirGap atmospherically separates the gearbox and pump chamber, ensuring that in the event of a leak, liquid will drain off to the outside rather than leaking into the gearbox. The AirGap also protects the gearbox when pumping hot media.
[Stay on top of the latest product releases with GlobalSpec product alerts, bespoke to your interests.]
The VY series delivers versatility and power. Thanks to the flow-optimized one-piece housing, VY series pumps are highly efficient. Different seals can be used in the new housing for a variety of applications depending on industry-specific standards and requirements. The versatility of the VY series makes it suitable for use in the chemical industry, as well as in the paper and textile sectors. VY pumps feature a flow range of 1 m³/h to 120 m³/h (4.4 US gpm to 528 US gpm) at a maximum pressure of 10 bar (145 psi). The housing design minimizes dead space and thus allows for easy cleaning. The pumps can be flushed and disinfected in accordance to CIP or SIP compliance requirements.