Team develops non-toxic wood glue derived from glucose, citric acid
Marie Donlon | May 12, 2022
A team of researchers from the Southwest Forestry University in China has developed a non-toxic plywood glue derived from glucose and citric acid.
In lieu of the glues and resins typically used to hold together particleboard, fiberboard and plywood — used in the making of furniture, flooring and décor — and that usually contain formaldehyde, which is considered a human carcinogen, the researchers have developed a new water-resistant non-toxic adhesive.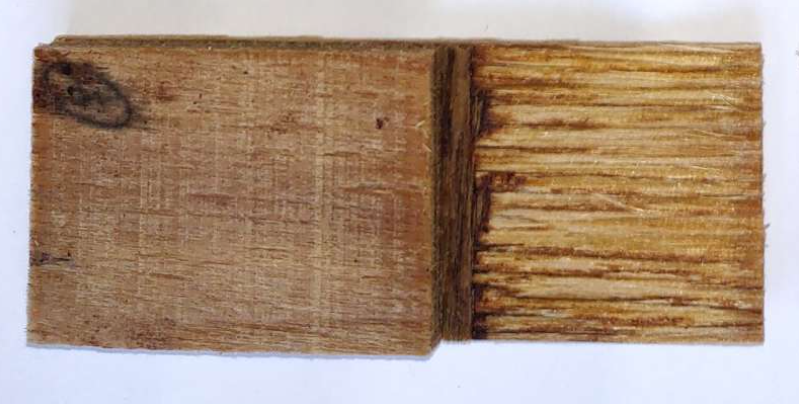 Source: Adapted from ACS Applied Materials and Interfaces 2022, DOI: 10.1021/acsami.2c02859
To create the new wood glue, the researchers combined glucose and different quantities of citric acid into a sticky substance. The substance was then applied to three thin layers of poplar veneers, which were pressed into a sheet at 392° F for a few minutes.
Once cured, the sheets were cut into smaller pieces that the team used to perform strength tests. According to their findings, the poplar veneer samples, under pressures greater than 101 psi, all broke along the wood fibers and not at the glued seams — thereby satisfying a standard for plywood in China.
Additionally, the team soaked the poplar veneer samples in hot and boiling water, and those composed with citric acid to glucose ratios above 0.6 demonstrated adhesive strengths that also satisfied standard requirements. According to the researchers, this is due to the increase in ester links formed between the citric acid and the wood, which subsequently increased the wood-binding strength and water-resistance.
The glue is detailed in the article, Fully biobased adhesive from glucose and citric acid for plywood with high performance, which appears in the journal ACS Applied Materials and Interfaces.