Researchers discover risk of COVID-19 transmission much higher from air than surfaces
Marie Donlon | May 15, 2022
A study from the University of Michigan suggests that people are 1,000 more times likely to contract COVID-19 from the air than from surfaces.
To make this determination, the researchers swabbed surfaces all over campus using swab kits and collected air samples using wetted wall cyclone bioaerosol samplers, which capture large volumes of air using a pump, throughout campus between August 2020 and April 2021.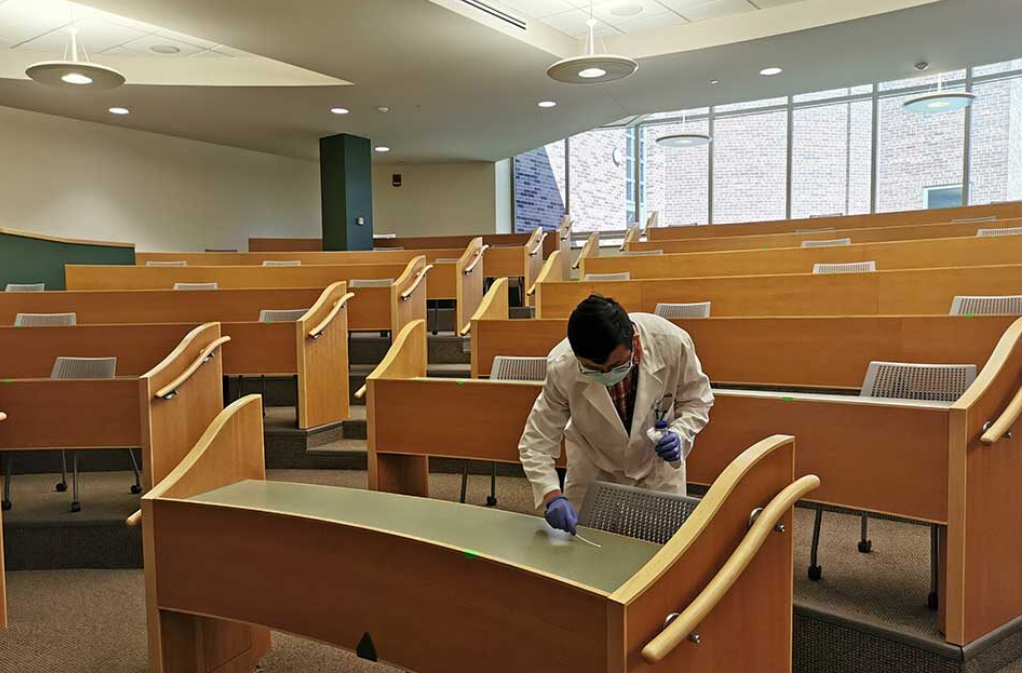 Source: University of Michigan
During this time frame, the researchers collected a total of 256 air samples and 517 surface samples. Analyses revealed that the positivity rates were 1.6% in air samples and 1.4% in surface samples. As such, the team determined that the probability for infection was roughly 1 per 100 exposures to SARS-CoV-2 — the virus that causes COVID-19 — aerosols via inhalation versus an estimated 1 in 100,000 via contaminated surfaces in simulations.
Although the researchers caution that the tests were conducted during a time where fewer people were on campus due to the COVID-19 pandemic and its associated lockdowns and while strict surface-cleaning protocols were being followed, the results expand understanding of infectious diseases and mitigation efforts during the current pandemic and, possibly, future pandemics.
The study, Monitoring SARS-CoV-2 in air and on surfaces and estimation of infection risk in public buildings on a university campus, appears in the Journal of Exposure Science & Environmental Epidemiology.