Failed cancer drug trial opens door to new treatments
Cari Cooney | May 08, 2022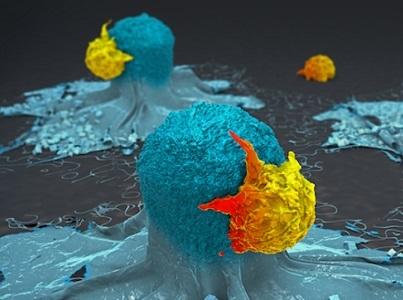 3D rendition of T cells attacking cancer cells. Credit: La Jolla Institute for Immunology
When patients in the United Kingdom began experiencing negative side effects during a cancer immunotherapy trial, researchers from the La Jolla Institute for Immunology (LJI) Center for Cancer Immunotherapy and the University of Liverpool examined the data and worked with patient samples to determine what went wrong.
Their observations, which were published in the journal Nature, provide vital insights into why many immunotherapies have hazardous side effects and suggest a better method for treating people with solid tumors.
"This work shows the importance of learning from early-stage clinical trials," said La Jolla Institute for Immunology (LJI) professor Pandurangan Vijayanand, M.D., who co-led the new study with Christian Ottensmeier, M.D., a professor at the University of Liverpool and adjunct professor at LJI.
Immunotherapies only offering limited help
"In the oncology world, immunotherapy has revolutionized the way we think about treatment," said Ottensmeier. "We can give immunotherapies to patients even with metastatic and spreading disease, and then just three years later wave goodbye and tell them their cancer is cured. This is an astounding change."
Vijayanand and Ottensmeier are both scientists, and Ottensmeier is an attending oncologist who handles patients with solid tumors. In the last decade, he has seen an increase in the number of patients thrive because of breakthroughs in immunotherapies, which cooperate with the immune system to eradicate malignancies.
Consequently, only about 20% to 30% of solid cancer patients who receive immunotherapies achieve long-term recovery. Some people have no improvement after immunotherapy, while others experience major complications in their lungs, bowels and even skin after treatment. These adverse effects can be incapacitating, even lethal, and patients are compelled to discontinue immunotherapy.
"If you design your clinical trials well and apply sophisticated genomics, you have a lot to learn," said Vijayanand. "You can figure out what's happening and go back to the patients."
Their goal would be impossible without the assistance of a highly trained transnational team of collaborators. "This study has been an extraordinary collaborative effort," said Ottensmeier. "It's taken groups of medical oncologists, surgeons, research nurses, our patients, and scientists — all working together on two sides of the pond."