Video: New H-FLO series eccentric disc pumps for hygienic applications requiring high flow rates
Diana Aoun | May 09, 2022
Mouvex has revealed its all-new H-FLO seal-less eccentric disc pumps for use in a wide range of pumping applications that require hygienic operations. The H-FLO pump delivers high suction vacuum and high discharge pressure that allow it to self-prime and fully strip lines, important for maximizing product recovery.
The unique seal-less design of the H-FLO features a triple stainless-steel bellows that ensures durability, safety and product containment. The pump can run dry for up to five minutes, and the self-compensating eccentric disc principle delivers consistent flow rates over extended periods. In addition, the flow rate is extremely accurate even at low speeds and maintains strong suction and discharge pressure.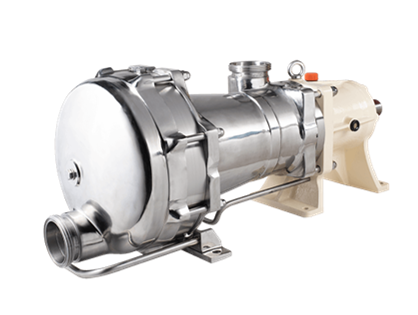 Source: PSG Dover — Mouvex
The H-FLO series also features an all-stainless-steel construction and fewer moving parts, resulting in reduced maintenance and downtime. The pump is fully drainable with the added ability to strip and drain transfer piping/tubing. The pump provides consistent and efficient flow for a wide range of viscosities with a flow rate up to 70 m3/h (300 gpm) and pressure up to 10 bar (145 psi).
The new eccentric disc pump delivers extremely gentle, pulse-free flow to protect shear-sensitive products, requires minimal maintenance with no mechanical seals or timing gears, and is easy to install. In addition, clean in place (CIP) and sterilize in place (SIP) capabilities provide convenience and cleanliness.
The H-FLO is suitable for most hygienic applications, including food and beverage, pharmaceutical, and cosmetic processes, particularly those that require consistent non-pulsing flow and gentle fluid handling (low shear rate).