UCF awarded DOE grant for pre-packaged heating and cooling system to reduce energy use in older homes
Diana Aoun | May 08, 2022
The University of Central Florida (UCF) was recently awarded a grant worth $4.4 million from the U.S. Department of Energy (DOE) to determine the effectiveness of a pre-packaged pod to install high efficiency heating, cooling and water heating systems to thousands of homes.
Upgrading older homes is often challenging because homeowners find it expensive and intrusive, thus making them less likely to make the investment. The pod system, however, is expected to reduce energy use by 50% to 75% and is less disruptive to install, according to researchers, making it more promising.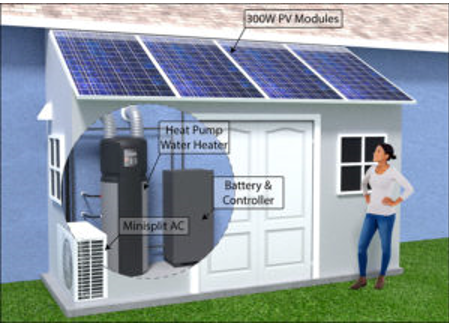 Source: UCF
FSEC Energy Research Center at the University of Central Florida, in partnership with National Association of State Energy Officials and ROC USA, will retrofit eight manufactured homes and four single-family homes with the pod technology called PV-GEMS. The photovoltaic (PV)-powered, Grid Enhanced Mechanical Solution (GEMS) consists of high-efficiency heat pumps for heating, cooling and water heating. The equipment is partially powered by a PV and battery backup system. Components are pre-packaged in a "pod" that is predominantly assembled off-site and installed outside of the home, minimizing disruption to residents.
UCF plans to demonstrate the retrofit strategy in six states across different climate zones — Colorado, Georgia, Massachusetts, North Carolina, Oregon and Texas. A commercialization plan to manufacture and deploy the retrofit strategy at scale will be developed, as well as training materials for installers.
A unique feature of the system is that it does not require excess solar energy to be sent back to the utility grid, instead using or storing the energy at the house. Not only does the pod system reduce the energy and carbon footprint of older homes, but it also offers the additional benefit of being able to operate in the event of a power outage.