Space weather forecasting with mobile phones? There's an app for that
S. Himmelstein | April 14, 2022
Earth-bound citizen scientists can use their mobile phones to assist the European Space Agency (ESA) in fine-tuning space weather forecasting models. Download a new Android app and leave a smartphone by a window each night with the satellite navigation (satnav) positioning turned on to record small variations in satellite signals. Such data will be applied to machine learning analysis of meteorology and space weather patterns.
The CAMALIOT app, developed through ESA's Navigation Innovation and Support Programme with the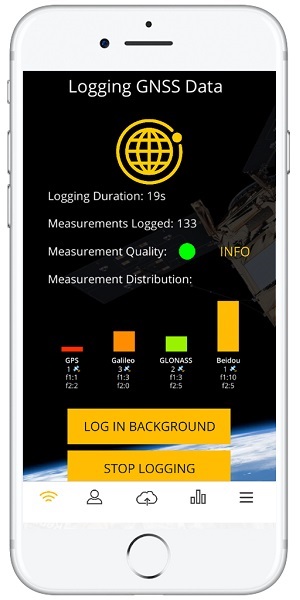 Source: ESA/ETH Zurich/International Institute for Applied Systems Analysis support of the agency's Global Navigation Satellite System (GNSS) Science Support Centre, is suitable for more than 50 models in the smartphone market, which come equipped with dual frequency satnav receivers.
According to ESA, thousands of permanent GNSS stations continuously record satnav data, and the signals transmitted to Earth are modified by the amount of water vapor in the lower atmosphere, helping to forecast rainfall. The satnav signals also undergo delay and fading in the ionosphere. Dual frequency satnav receivers can compensate for this effect by comparing their two frequencies.
"The combination of Galileo dual band smartphone receivers and Android's support for raw GNSS data recording is what opened up the prospect of supplementing data from these fixed GNSS stations with tens of millions of smartphones, vastly increasing our density of coverage. We took inspiration from the famous 'SETI@home' initiative, where home laptops help seek out signs of extraterrestrial life."
Download the app to participate in this citizen science campaign, which runs until the end of July 2022.