Winners of the Lunar Robotics Design Contest
S. Himmelstein | April 07, 2022
The Olympus lunar robot designed by Lucia Grisanti. Source: Chelsey Hinrichsen
NASA has selected the winning designs submitted to its Lunabotics Junior Contest, a national competition for K-12 students featuring the agency's Artemis missions. Interested aspiring engineers were tasked with designing a robot that can dig and move lunar soil, or regolith, from one area of the lunar South Pole to a holding container near where Artemis mission astronauts may explore the Moon in the future.
[See also: NASA asks young engineers to design a Moon mission robot.]
Tools for manipulating such regolith will be crucial for tapping lunar metal and mineral resources, harvesting water and erecting a Moon base with lunar concrete. One national winner from each grade division was selected from approximately 2,300 submitted designs.
The top entry in the grades 6-12 division was 15-year-old Shriya Sawant of Cumming, Georgia, for her Regolith Accretion Device (RAD) design. The bucket-wielding autonomous RAD robot is intended to meet the challenges of reduced gravity on the Moon, lunar dust contamination and navigating rough terrain.
A solar-powered robot sporting spiked wheels earned nine-year-old Lucia Grisanti from Toms River, New Jersey, the winning prize in the grades K-5 division. Olympus is designed to travel the lunar surface and scoop regolith into a cone-shaped collector to separate large rocks from dust.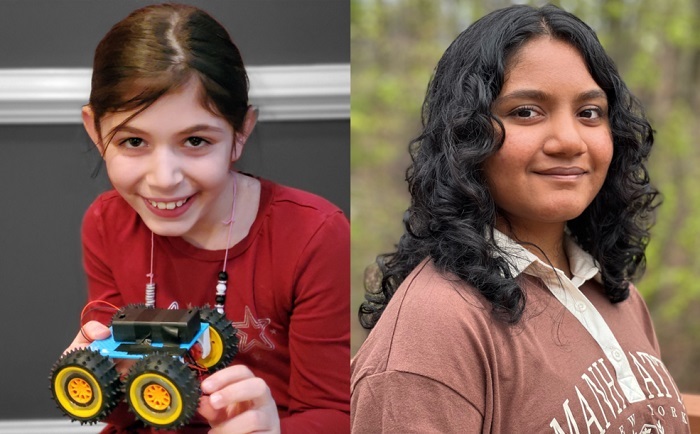 NASA named two national winners for the Lunabotics Junior contest: Lucia Grisanti for grades K-5 and Shriya Sawant for grades 6-12. Source: Future Engineers
See the submissions from the contest semifinalists and learn about other science, technology, engineering and mathematics (STEM) opportunities from NASA.