India and Japan Agree to Cooperate on Nuclear Energy
Engineering360 News Desk | December 14, 2015
India and Japan signed a memorandum on cooperating in nuclear energy. However, a number of technical and legal issues must be resolved before a final agreement can be signed. The news was reported by World Nuclear News.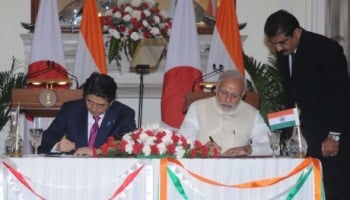 Japanese Prime Minister Shinzo Abe and Indian Prime Minister Narendra Modi sign the agreement as an aide watches. Image source: Indian Prime Minister's Office.Negotiations for a civil nuclear deal between the two countries began in 2010. However, those talks were suspended after the March 2011 accident at Japan's Fukushima Daiichi plant. During a May 2013 meeting by Japan's Prime Minister Abe and India's then-Prime Minister Manmohan Singh, the two leaders said that negotiations had resumed. The memorandum of understanding was signed in Delhi on December 12.
The signing would enable India to import Japanese nuclear technology and services. Abe and Prime Minister Modi also affirmed their commitment to work toward India becoming a full member of the Nuclear Suppliers Group.
India was largely excluded from international trade in nuclear plant and materials for more than three decades because of its position outside the comprehensive safeguards regime of the Nuclear Non-proliferation Treaty. Special agreements ended its isolation in 2009 and the country may now engage in nuclear trade with countries with which it has since signed cooperation agreements: Australia, Canada, France, Kazakhstan, Russia, the UK and the U.S. Foreign technology and fuel are expected to boost India's nuclear power plans.