London music venue to include world's largest LED screen
Cari Cooney | April 04, 2022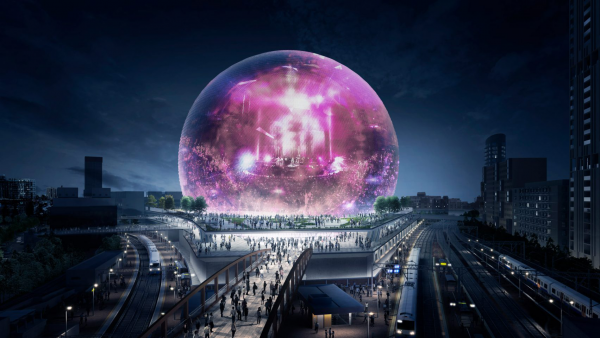 MSG Sphere London concept. Source: MSG/Populous
MSG Sphere London, shaped like a gigantic ball rising from the ground, is a spectacular new music and entertainment facility set to open in the U.K. capital. The structure will include an immersive interior with the world's largest LED screen, as well as an eye-catching facade with a customizable LED system, according to its organizers.
Madison Square Garden's MSG Entertainment subsidiary designed MSG Sphere London, with stadium expert Populous also collaborating. The structure will be similar to the MSG Sphere in Las Vegas, with a maximum height of 90 meters (295 feet) — nearly as tall as Big Ben, and a diameter of 120 meters (393 ft). There will be other smaller secondary structures as well.
The sphere's outside will be made up of stainless-steel panels with integrated programmable LEDs that will show content linked to the inside performances as well as advertisements.
An immersive experience for viewers
While they do not have that much information on the screen's precise technological features at this time, it is known it will be paired with high-end audio and haptic technologies.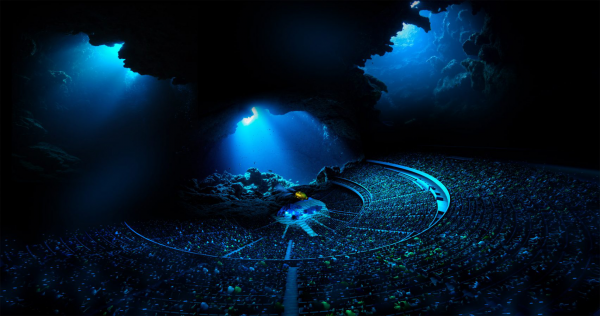 With floor haptics and surround sound/visuals, MSG London will be completely immersive. Source: MSG/Populous
"The interior of the main venue would include cutting-edge technologies such as the largest and highest resolution LED screen in the world, an adaptive acoustics system that delivers crystal-clear audio to every guest, a haptic system that will convey bass so the audience can "feel" the experience and wireless connectivity that delivers 25 megabits per second for every guest," said the MSG Sphere website. "In addition to the main venue, the plans for MSG Sphere feature a smaller music club/nightclub, retail space, a cafe, restaurants and attractively landscaped publicly-accessible outdoor spaces, including an urban square, park space, nature play space for children, seating areas and an outdoor gym."
The project will use renewable energy options for some of its power and will include a green roof. Wherever possible, water will be used as little as possible.