This manufacturer earned UL approval for halogen-free TPE cables
Engineering360 News Desk | March 15, 2022
Plastic and polymer cable and bearings supplier Igus is the world's first cable manufacturer to receive Underwriters Laboratories (UL) appliance wiring material (AWM) certification for its halogen-free thermoplastic elastomer (TPE) cables. This is the first time the testing organization has recognized that halogen-free TPE cables can also meet fire protection requirements.
According to statistics from the National Fire Protection Association, electrical distribution and lighting equipment are the leading causes of structure fires in industrial properties. UL certification means that a product has been tested to nationally recognized safety and sustainability standards.
Up to now, the flame retardancy of cables has been the key factor in obtaining UL certification for fire protection. Approval is therefore only granted to products containing flame retardants such as chlorine, fluorine or bromine.
However, such flame retardants generally change the chemical structure of the jacket and reduce the mechanical load-bearing capacity. Therefore, Igus starts much earlier in the process: the cable specialist focuses less on preventing a fire from spreading, but rather on how the cable itself caused the fire.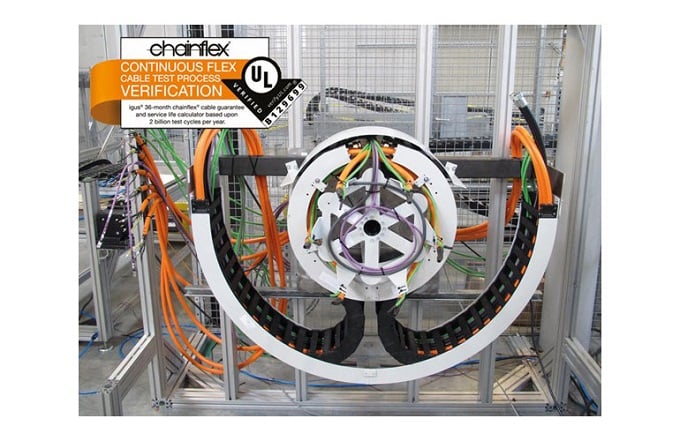 Source: Igus
TPE jacket compounds from Igus are extremely resistant to mechanical loads as well as external influences. They can therefore be used in a wide range of applications: in small installation spaces of up to 4xd, on highly dynamic, short travels with accelerations of 100m/s², or on long travels in a temperature range from -35° C to 100° C. At the same time, they are extremely resistant.
In all of these e-chain applications, the halogen-free TPE jacket compounds minimize premature aging of the outer jacket by a factor of up to 10; when compared to the same materials containing flame retardants. A decisive cause of fire is reduced. This is because if the jacket does not break, the cable cannot cause a fire because a reduction in the cross section of the cores is impossible due to the non-existent jacket break. This argument finally convinced UL.
With these measures, Igus makes a significant contribution to increasing machine safety. The long-term flexural strength and service life of chainflex cables in e-chains have been proven by numerous practical tests in the Igus test laboratory.
"So far, customers have already had the opportunity to choose from 1,044 chainflex cables with UL approval," Rainer Rössel, vice president and head of the chainflex cables business unit, points out. "With the new certification, there are now more than 200 TPE cables, so we can offer an almost complete UL certified product range."