Nissan, Enel to Test Auto-Grid System in Europe
Engineering360 News Desk | December 10, 2015
Nissan and the Enel Group have partnered to develop a vehicle-2-grid (V2G) system that will allow electric car drivers to use excess energy from their battery in their home or office, or return it to the grid.
Nissan LEAF owners will be able to connect to the grid to charge their electric vehicles (EVs) during low-demand, low-cost periods—typically at night—and use any excess energy stored in the vehicle's battery at home when power costs are higher. They also may sell that electricity back to the grid to reduce their electricity bill.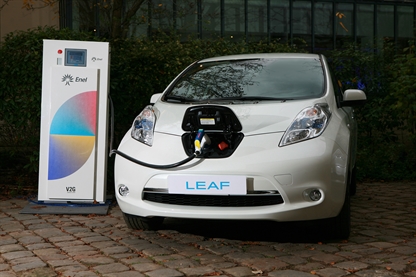 Nissan LEAF owners will be able to use excess electricity from the vehicle's battery at home or sell it back to the grid. Image credit: Nissan.Nissan LEAF comes equipped with either a 24kWh or a 30kWh battery.
The agreement with the Enel Group—Europe's second-largest power company for installed capacity—will bring grid-integrated vehicles to countries where regulation allows sufficient value generation. Denmark will host the first set of trials. Germany, the Netherlands and other northern European regions will follow, according to the companies.
"It ultimately means that electric vehicles can now become a fully integrated part of our national electricity systems right across Europe," says Paul Willcox, Nissan Europe chairman.
The system is also designed to help stabilize the electric grid by allowing vehicle owners to function as a "personal power station" to help even out peak loads.
Using France as an example, where there are 38 million vehicles and the current electricity generation capacity is 130 GW, the companies claim that the grid integration of these vehicles could generate a virtual power plant of up to 380 GW.