Electrolube drives the future of coatings with UVCLX bio-coating
Engineering360 News Desk | January 28, 2022
Electrolube, a brand of MacDermid Alpha Electronics Solutions, has launched the UVCLX, UV Cure Coating Xtra, as a new bio conformal coating for the electronics community. The eco-friendly bio-coating innovation, incorporating 75% bio-organic content from renewable sources, is engineered to protect electronic circuitry against the harshest of environments, particularly within the automotive industry where components are at high risk from chemical attack.
Coating materials have traditionally been formulated in solvent-based form, however, the use of solvents has become restricted from an environmental perspective and consumers are increasingly becoming aware of the 'waste' of these processes in the form of the energy required to remove the solvents, as well as the impact of their release on the environment. Electrolube's new UVCLX solvent-free technology responds to the needs of both manufacturers and consumers, essentially based on ethics, performance and process.
The new UVCLX is a bio-based conformal coating that is completely unique to the industry and provides the highest levels of protection while maintaining a fast processing time. Applied via a selective coating machine, UVCLX exceeds traditional ultraviolet (UV) cure coatings, being touch dry after just a short exposure to the correct wavelength of UV light. UVCLX guarantees full cure in less than 24 hours by virtue of the secondary chemical cure mechanism, which ensures that even shadowed areas are fully cured in a matter of hours. In comparison to traditional UV cure coatings that can require weeks at a time for a complete cure and still with some shadowed areas remaining uncured, UVCLX ensures a much faster work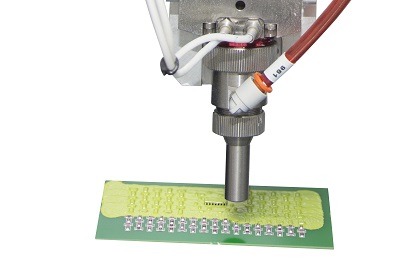 Source: Electrolube in progress.
Optimally applied at between 200 μ m to 350 μm, the new bio-coating achieves excellent edge coverage even over sharp components and the highest levels of protection, even during temperature cycling and thermal shock, vastly out-performing other UV coatings on the market even in the harshest environments. UVCLX offers exceptional performance due to its hydrophobic nature which gives it excellent protection from moisture, salt mist and even full immersion for short periods. This immersion period can be extended by applying the coating more thickly.
The materials are non-flammable and are generally a much lower hazard to human health, resulting in potential cost-savings on insurance. Often, the energy demands required for curing these materials are significantly lower than for solvent-based materials, resulting in reduced energy bills and reduced CO2 emissions. Solvent-free materials are also generally applied slightly more thickly, resulting in increased coverage and greater protective capability. The formulations deliver improved capability to meet the increased protective demands of new applications, such as automotive industry thermal shock cycling or aerospace increased condensation resistance.
In terms of process, UVCLX is formulated to enable more rapid achievement of protective properties, whether by condensation, UV, chemical curing mechanisms or a combination, and is designed to improve manufacturing velocity and throughput. As previously mentioned, the design of some boards means that curing can be extremely difficult as some areas do not gain access to the UV light. The secondary cure mechanism ensures a rapid cure completely within six hours to eight hours at room temperature.
Camouflaging components and PCB tracks for more sensitive designs, UVCLX is an opaque green coating offering complete coverage of both PCB and components. The versatility of UVCLX enables it to be deployed wherever a coating is needed and is ideal for automotive and electric vehicle applications. UVCLX is characterized by greater coating thickness and enhanced edge coverage and shows improved adhesion, abrasion, scratch and solvent resistance when compared to conventional single component coatings. The rapid curing, tough yet flexible solvent-free coating also provides excellent resistance to chemicals and thermal shock.