Video: Maiden voyage of world's first liquefied hydrogen tanker
S. Himmelstein | January 24, 2022
Australia is set to become the world's first exporter of liquefied hydrogen after the Suiso Frontier docked at Victoria's Port of Hastings this week to carry 1,250 m3 of super-cooled (-253° C) liquid hydrogen from the Latrobe Valley to Kobe, Japan.
The arrival of the vessel marks the next phase of the $500 million Hydrogen Energy Supply Chain (HESC) pilot project, which will see the specially built carrier transport liquified hydrogen generated from brown coal. The venture is led by a consortium including Japan's J-Power and Kawasaki Heavy Industries, along with Shell, AGL and with the support of the Japanese, Australian and Victorian governments.
The 225,000 tons of carbon neutral liquefied hydrogen produced by HESC in a commercial phase will contribute to reducing global carbon dioxide emissions by some 1.8 million tons per year and provide valuable infrastructure for other hydrogen projects in the region.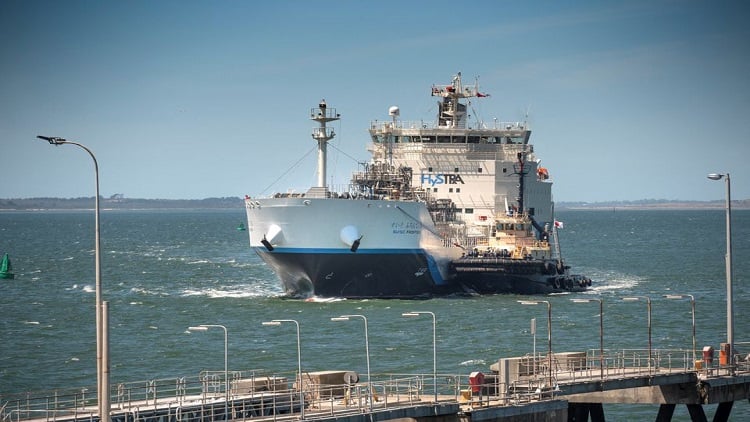 The Suiso Frontier, the world's first hydrogen carrier, arrives from Kobe, Japan, at the Port of Hastings in Victoria, Australia. Source: Hydrogen Energy Supply-chain Technology Research Association
During the pilot project, 99.99% pure hydrogen has been produced from Latrobe Valley coal and biomass via gasification, trucked to Hastings, cooled and subsequently liquified to less than 800 times its gaseous volume to create highly valuable liquefied hydrogen. The loading of liquefied hydrogen onto the Suiso Frontier for the return journey to Japan makes the HESC project the most advanced and scalable hydrogen project in Australia and the first project in the world to make, liquefy and transport liquid hydrogen by sea to an international market.