Video: CES 2022 award-winning disinfecting bot launched
Marie Donlon | February 02, 2022
UBTECH Robotics, a robot manufacturer based in China, has recently launched its autonomous ultraviolet-C (UVC) disinfection robot.
Recently selected as an Innovation Award honoree at CES 2022, the ADIBOT-A can be programmed to navigate and sanitize multiple floors in a building using its 360° UVC light coverage.
Using hospital-grade UVC light, the ADIBOT-A kills bacteria, viruses and fungi in indoor settings such as hospitals, schools and other high-traffic spaces. The ADIBOT-A is a build-out of last year's stationary disinfecting ADIBOT iteration.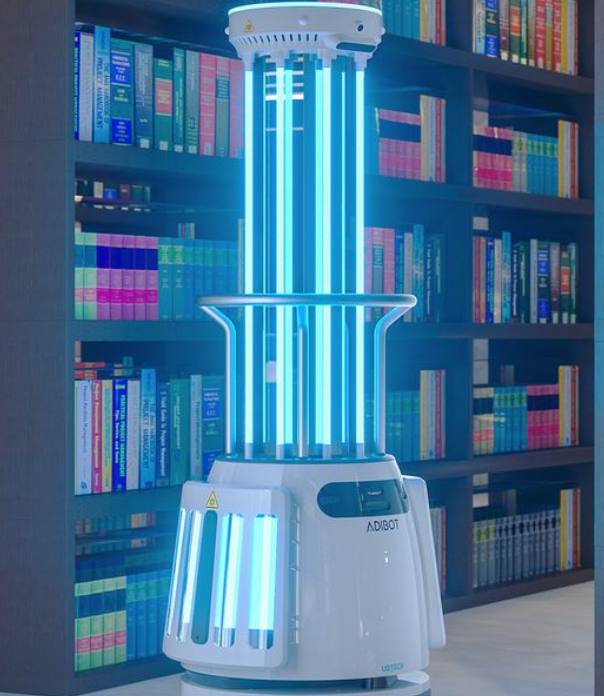 Source: UBTECH
"The stationary device that we launched last year was to address a segment of the market where full autonomy wasn't necessarily needed," said John Rhee, general manager of UBTECH's North American division. "Our reasons for getting into a fully autonomous version is we're also finding that there are a lot of shortages and bandwidth used by people performing those jobs, and they can focus on other important tasks while [the mobile robot] takes the disinfection tasks out of the daily workload."
To create the mobile ADIBOT-A, UBTECH incorporated lidar sensors at the top and base of the robot. These light detection and ranging sensors were used to create a 3D representation of the surveyed environment. Coupled with multiple depth sensors, artificial intelligence algorithms and assorted hardware, the ADIBOT-A is capable of building a 3D diagram of the space to be cleaned.
The ADIBOT-A is currently launching across the U.S. Watch the accompanying video that appears courtesy of UBTECH for more information about the ADIBOT-A.