Video: New shafted miniature encoder for small spaces
Engineering360 News Desk | January 20, 2022
US Digital has expanded its line of miniature encoders with a new shafted encoder. The S16 Micro Optical Shaft Encoder is about 40% smaller than the company's next smallest shafted encoder, the S4T, but comes with higher resolution — up to 4,096 counts per revolution before quadrature — and comes with index.
According to US Digital, the smaller housing makes it easier to fit into the design of modern electronics and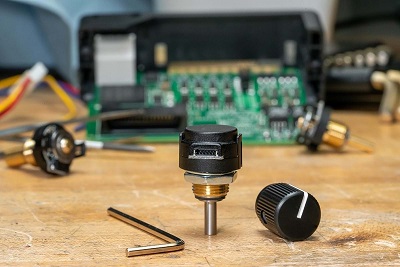 Source: US Digital systems with smaller components. The S16 comes with shaft sizes of 0.125 inches, 0.250 inches and 6 mm. The S16 encoder is available with either a bushing or ball bearing system for high speed applications. The shaft torque is designed to provide the feel of a potentiometer for front-panel manual interfaces. A five-conductor, polarized, 0.8 mm pitch connector is used to connect the encoder.
Specs include an operating temperature range of -40° C to 100° C, electrostatic discharge of 12 kV and a maximum supply voltage of 5.5 V.