Video: Subsea cable to bring Australian solar energy to Singapore
S. Himmelstein | February 11, 2022
Plans are underway to bring renewably generated electricity from solar energy-rich Australia to Singapore. The Australia-Asia PowerLink project, led by Australia's Sun Cable, will include a solar power system in Australia's Northern Territory and an undersea 4,200 km high voltage DC cable system to transmit this power from Darwin to Singapore.
When operational in 2027, the system will generate 17 GW to 20 GW of peak solar power and include 36 GWh to 42 GWh of battery storage. Power will be transmitted north to the coast through overhead cables, followed by delivery to Singapore via the submarine cable along the sea floor. The project is expected to supply up to 3.2 GW of dispatchable clean energy and provide up to 15% of electricity supply in Singapore, sufficient to power up to three million homes. Environmental benefits will be realized by avoiding about 11.5 million tons of carbon dioxide emissions.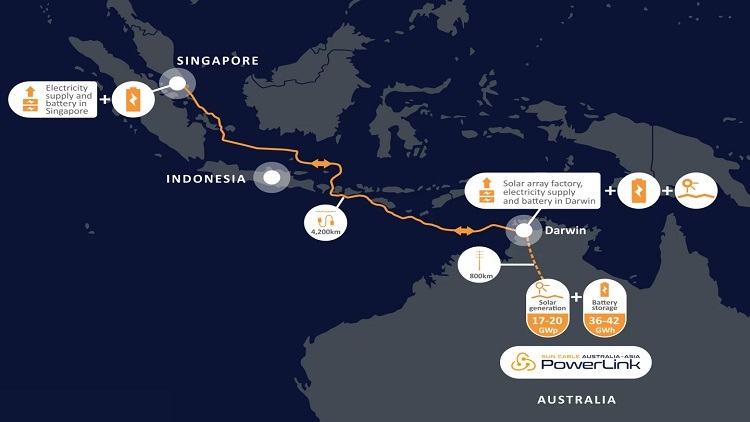 The Australia-Asia PowerLink will harness Australia's abundant solar energy resource for transmission to Singapore. Source: Sun Cable
The Australia-Asia PowerLink project has been granted Major Project status by the Australian and Northern Territory governments. Sun Cable has completed a Series A capital raise and has completed the sub-sea survey process in the 750 km of the route that falls in Australian waters.