Minnesota town to relocate, expand wastewater treatment facility
Cari Cooney | January 23, 2022
The current treatment plant, set for 2028 decommissioning. Source: Metro Council
Built in 1955, the wastewater treatment plant in Hastings, Minnesota, has had a great run. Looking forward toward future needs for facility upgrades and growth however, the plant has outgrown its space. It was recently decided by the Metropolitan Council Environmental Services that the plant would be relocated to a 221-acre lot acquired by in 2005. The estimated cost for the project is $145 million.
Just as the current facility does, the new wastewater treatment plant will discharge into the Mississippi River. From 2.34 million to 10 million gallons of water treated daily, surrounding townships will benefit from this relocation and expansion.
Supporting long-term development in the metro area
"Relocation of the plant at this time avoids major investments at a site that cannot meet the long-term needs of the plant's service area," said Heidi Hutter, environmental services engineer.
The new wastewater facility will utilize a biological phosphorus and ultraviolet light disinfection treatment process. Solids are separated and incinerated.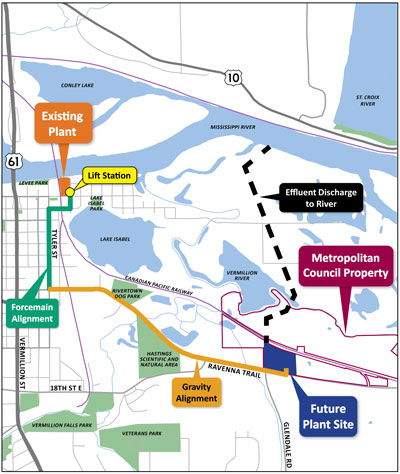 The new plant will be about 2 miles southeast of the old facility. Source: Metro Council
"The City of Hastings has been very successful in the revitalization and redevelopment of the historic downtown waterfront," said Met Council member Wendy Wulff, who represents the area on the Met Council. "This has, however, created challenges for the existing wastewater plant, as there is not room for expansion in the current location. We knew that we would eventually have to relocate the plant and have planned for that for some time. With growth resuming in Hastings, now is the time to begin the transition to a new plant, away from developed areas."
Construction is expected to begin in 2024; the current facility is set for decommissioning in 2028.