Anti-corrosive coating developed for steel used in maritime applications
Marie Donlon | January 13, 2022
A team led by researchers from the National Korea Maritime and Ocean University has developed an anti-corrosive coating for steel used in maritime applications.
A common method used for improving the corrosion resistance of steel is to coat it with other metals including aluminum (AI). Yet, Al can only be used sparingly in marine applications because it reacts with chloride ions in sea water, thus leading to corrosion.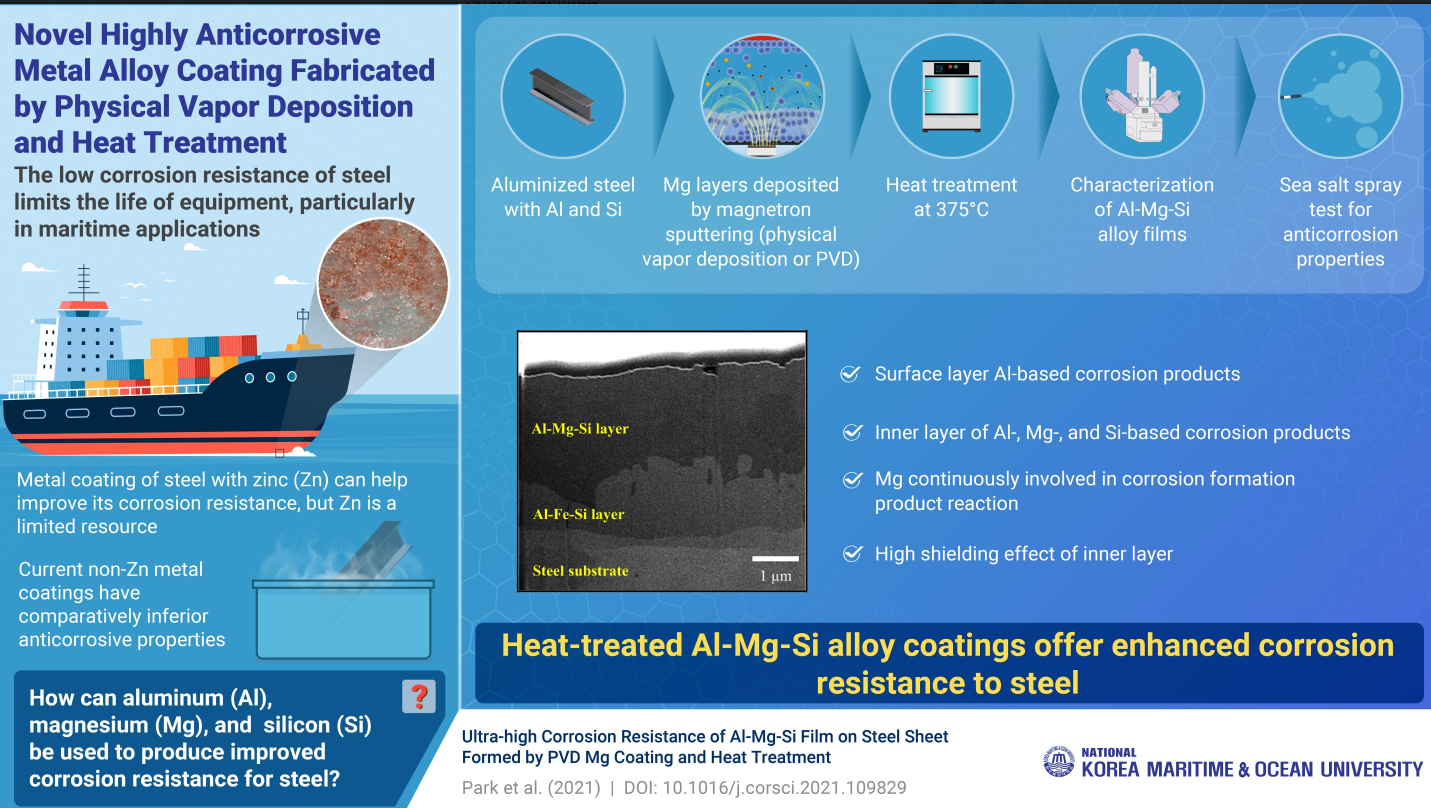 Scientists develop new anti-corrosion coating to increase the economic life and durability of steel machinery in an environment-friendly manner. Source: Korea Maritime and Ocean University
As such, the researchers added silicon (Si) and magnesium (Mg) to the steel, to form an alloyed coating. To overcome the challenge of not being able to easily deposit Mg as a coating using the method of dipping the steel into a hot bath of metal salts, the researchers plated aluminized steel (Al and Si) with Mg using a "physical vapor deposition" technique.
The coating was then exposed to a temperature of 375° C and then subjected to corrosion testing via salt spray testing. According to the researchers, the combination of AI-Mg-Si resulted in a material with anti-corrosive properties. Once further developed, the coating could potentially be used to protect ship hulls or marine and coastal facilities from corrosion.
"Our research reveals how a highly corrosion-resistant steel can be produced using a simple change in the surface treatment protocol. This makes it very meaningful for conserving energy and environmental resources," the researchers explained.
The study, Ultra-high corrosion resistance of Al-Mg-Si film on steel sheet formed by PVD Mg coating and heat treatment, appears in the journal Corrosion Science.