HFC phaseout to begin in the US
S. Himmelstein | January 20, 2022
The U.S. Environmental Protection Agency (EPA) recently issued a final rule establishing a comprehensive program to phase down domestic production and consumption of climate-damaging hydrofluorocarbons (HFCs). The regulatory action will cut national production and use of HFCs by 85% over the next 15 years, as mandated by the 2020 American Innovation and Manufacturing Act (AIM).
These chemicals are potent greenhouse gases commonly used in refrigeration and air conditioning equipment, and a global phasedown of HFCs is expected to avoid up to 0.5° C of global warming by 2100. EPA estimates that the present value of the cumulative net benefits of the U.S. phasedown exceeds $272 billion from 2022 through 2050, and that the rule will yield cumulative compliance savings for industry. In 2036 alone, the year the final reduction step is made, this rule is expected to prevent emissions of the equivalent of 171 million metric tons of carbon dioxide. The total emission reductions of the rule from 2022 to 2050 are projected to amount to the equivalent of 4.6 billion metric tons of CO2, nearly equal to three years of U.S. power sector emissions at 2019 levels.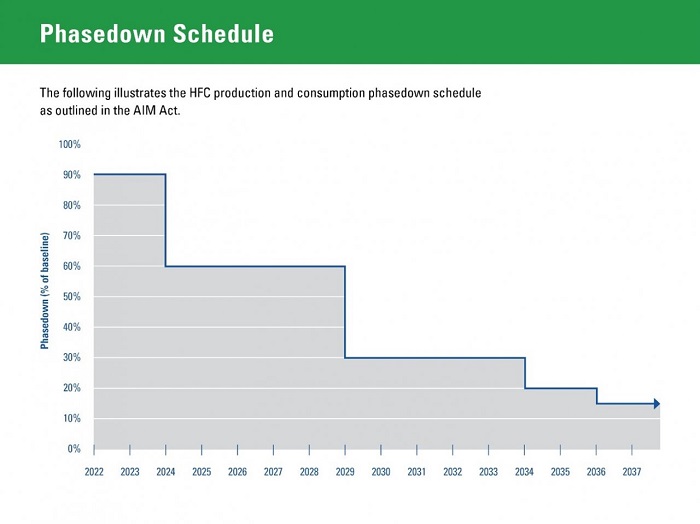 Source: EPA
The final rule establishes the HFC production and consumption baseline levels from which reductions will be made and establishes an initial methodology for allocating HFC allowances for 2022 and 2023. To ensure compliance with the phasedown limits, this final rule:
Establishes an electronic tracking system for the movement of HFCs through commerce,
Requires the use of refillable cylinders and container labeling requirements,
Establishes administrative consequences (revocation or retirement of allowances) for noncompliance that would be in addition to any civil and criminal enforcement action,
Requires third-party auditing of companies' recordkeeping and reporting and
Provides transparency of HFC production and consumption data for the general public and participants in the market.