Duke Energy to Build 200 MW Wind Farm
Engineering360 News Desk | December 03, 2015
Duke Energy Renewables, the unregulated unit of one of the largest electric power holding companies in the U.S., will build a 200-megawatt (MW) wind farm in Oklahoma. The farm is set to be operational by the end of 2016.
The Charlotte-based company's first renewable energy project in the state will increase its U.S. wind capacity to more than 2,000 MW.
Duke will build, own and operate the Frontier Windpower Project, sited in Kay County, near the Kansas border. Power will be sold to City Utilities of Springfield, Missouri, under a 22-year agreement.
The project will consist of 61 Vestas V126-3.3 MW wind turbines. Delivery of the turbines is expected to start in the second quarter of 2016 and commissioning is planned for the second half of the year, according to Vestas.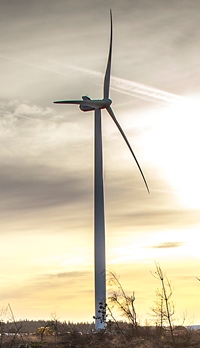 Vestas V126-3.3 MW turbine in Denmark. Image credit: VestasThe V126-3.3 MW is part of Vestas' 3 MW platform, which includes five-rotor variants, two-nacelle configurations, multiple-power modes and 15-hub heights.
Duke Energy Renewables' U.S. portfolio includes 17 wind farms and 34 solar farms operating in 12 states.