Introducing the Fisher FIELDVUE DVC6200 series digital valve controllers from Emerson
Diana Aoun | January 04, 2022
The new digital valve controller from Emerson features the latest in digital technology and intelligent control. The Fisher FIELDVUE DVC6200 is a valve-mounted, microprocessor-based controller that delivers enhanced diagnostics and smart controls to the entire valve assembly and can be used in all control and isolation valve applications. The FIELDVUE DVC6200 provides superior process control using essential, real-time information that can be accessed anywhere. This enables users to detect issues before they become a problem, thereby reducing maintenance time and cost, and improving operational performance.
The FIELDVUE DVC6200 is designed with online scheduler that allows users to specify a time and date to automatically run tasks. In-service diagnostics, for example, can be scheduled on a recurring basis. A summary of the outcome of each scheduled task is available from within the scheduler and users can access the resulting diagnostic graphs and analyses for more detailed task outcomes.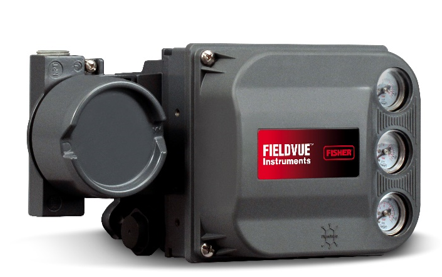 Source: Emerson
The FIELDVUE DVC6200 can also run performance diagnostics tests, which provides insights into the condition and performance of the entire valve assembly while the valve is actively controlling the process. The online friction test and friction trend enables friction or torque and dead-band monitoring during in-service operation. This information can then be trended over time to see changes in valve health. This online diagnostic capability enables the early detection of issues and helps to avoid costly operational problems down the line.
Reducing process variability is key to improving product quality, especially in harsh or hazardous applications. The FIELDVUE controller allows processes to run closer to setpoint, improving quality with more accurate control. The FIELDVUE can be used in almost all valve applications with any host, any valve, and any actuator to safely meet operational targets.
In terms of design, the FIELDVUE DVC6200 controller has been specially engineered to withstand hazardous environments. Thanks to the integrated magnet array and hall effect sensor, there are no sliding parts to wear, loosen, corrode or vibrate in harsh or nonstop cycling environments, resulting in longer instrument service life. Remote mount solutions are available that decouple the base unit from the process environment for extended temperature and extreme vibration applications. Encapsulated electronics are isolated from the terminal box, conduit and plant environment, ensuring continued diagnostics. A stainless-steel housing option provides extended service life in hostile and corrosive environments.
With Emerson's ValveLink software, users can set up and calibrate the valve assembly, monitor status and alerts, view and save previous diagnostic tests, and much more from almost any device.