Coating promises to warm houses in the winter, cool them in the summer
Marie Donlon | December 22, 2021
A team of scientists from U.S. Lawrence Berkeley National Laboratory (Berkeley Lab) has developed a smart roof coating for keeping homes warmer in the winter months and cooler in the summer months.
According to its developers, the temperature adaptive radiative coating (TARC) performs radiative cooling wherein skyward facing surfaces eject heat into the air in the form of thermal radiation. As such, the coating promises to reflect sunlight and heat away from buildings in the summer months and trap heat during the winter months.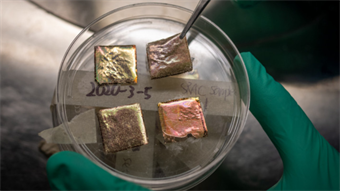 Source: Berkeley Lab
TARC is reportedly composed of vanadium dioxide (VO2), which is a compound that conducts electricity, but not heat, when it reaches a temperature of 153° F.
During testing, TARC reflected roughly 90% of heat when temperatures surpassed 86° F and only 20% of heat when temperatures dropped below 59° F. The researchers suggest that this coating could result in an estimated 10% reduction in electric bills for the average U.S. household.
In addition to applications for home heating and cooling, the researchers are eyeing the coating for electric vehicles, satellites and electronics.
The study, Temperature-adaptive radiative coating for all-season household thermal regulation, appears in the journal Science.