The new FLEXFLO A4 peristaltic metering pump from Blue-White
Diana Aoun | December 28, 2021
Blue-White recently launched its new FLEXFLO A4 self-priming peristaltic pump. This latest innovation from the flow and metering specialist has been specially designed without valves that can clog and require maintenance, is self-priming, and cannot vapor lock or lose prime.
The most notable design feature of the FLEXFLO is its unique self-priming capability — even against maximum line pressure. As a result, by-pass valves are not required, and the valve can maintain up to 9.1 m (30 ft) of suction lift while delivering gentle, low shear pumping action.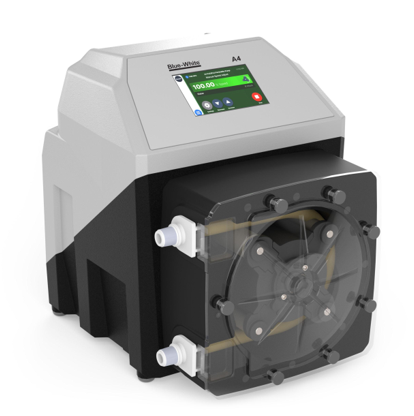 Source: Blue-White
The FLEXFLO also comes with patented Tube Failure Detection (TFD) technology which enables the pump to identify a tube rupture by detecting chemicals in the pump head, thus minimizing the risk of hazardous chemical spills. Blue-White also offers optional dual channel tube design for optimum performance and pressure capability.
The new FLEXFLO A4 peristaltic pump features a 2,500: turndown ratio and a NEMA 4X (IP66) wash-down with a chemically resistant, powder coated enclosure. The heavy-duty rotor eliminates the risk of flexing and increases accuracy, while the absence of metal springs or hinges that are known to corrode over time improve pump reliability and longevity.
Further adding to the versatility of the FLEXFLO is its range of communication and interface features. The pump comes with a 5 inch touchscreen color LCD display with user-friendly configurations. It features a variety of control options including:
Signal inputs: 4-20 mA, pulse inputs, frequency inputs
Signal outputs include: 4-20 mA output (optional), frequency output (optional), one 250 V/6 AMP relay output, three 115 V/1 A (optional)
The FLEXFLO features a maximum working pressure of 8.6 bar (125 psig), and a flow range of 0.04 to 600 lph (.01 to 158.5 US gph). It can handle a maximum fluid temperature of 85° C (185° F) depending on tubing connections and a fluid viscosity of up to 12,000 Centipoise.