Guidance for measuring recycled content of automotive products
Engineering360 News Desk | December 07, 2021
A new guidance document published by the Suppliers Partnership for the Environment (SP) and the Automotive Industry Action Group (AIAG) outlines a common industry-supported definition and straightforward approach for measuring recycled content of automotive products consistent with those approaches outlined in other standards.
SP and AIAG are recommending that automotive companies reference the definitions and process outlined in this guidance and that this document be distributed widely across the automotive supply chain as best practice guidance when determining recycled content of an automotive product. In the coming month, SP and AIAG will also be releasing a companion guidance document outlining a common process for measuring renewable content of automotive products.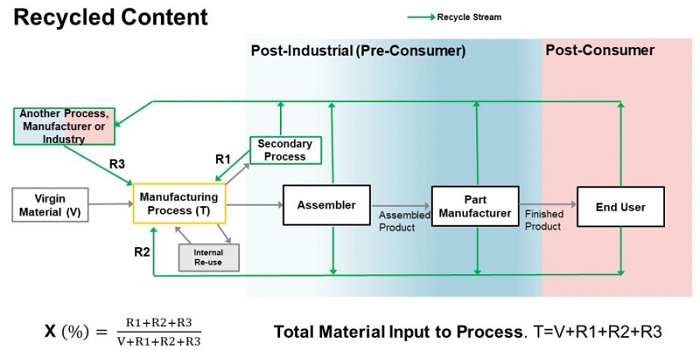 Source: SP/AIAG
Recycled content represents the proportion of recycled material, by mass, incorporated in a process. Sources of recycled content may include:
R1: Material that has gone through another process (secondary process) prior to use with the same product, component, or manufacturing process. It is scrap that is sent to a separate process and brought back in a different form or with composition adjustments.
R2: Material recovered from a downstream manufacturing process or end user of the same or another product that is used in a manufacturing process.
R3: Recycled portion of purchased raw material, including materials recovered or generated by other industries. Only the recycled portion of a purchased raw material may be counted when material consists of recycled and virgin content.