Watch the launch of NASA's asteroid redirection mission
S. Himmelstein | November 24, 2021
A NASA mission to demonstrate technology to deflect asteroids that could pose a threat to the Earth is now underway. A SpaceX Falcon 9 rocket carrying the Double Asteroid Redirection Test (DART) spacecraft, built by the Johns Hopkins Applied Physics Laboratory (APL), launched from Vandenberg Space Force Base in California on November 23.
DART is headed toward the Didymos asteroid system and its target, the 530 ft diameter moonlet Dimorphos, which orbits the 2,500 ft diameter Didymos. After interception, expected sometime between September 26 and October 1, 2022, DART will slam into Dimorphos at roughly 4 miles per second. The kinetic impact is predicted to shorten Dimorphos' orbit around Didymos by several minutes, a change that will be monitored by use of Earth telescopes. The resulting data will improve the accuracy of computer models critical to predicting the effectiveness of the kinetic impact as a reliable method for asteroid deflection.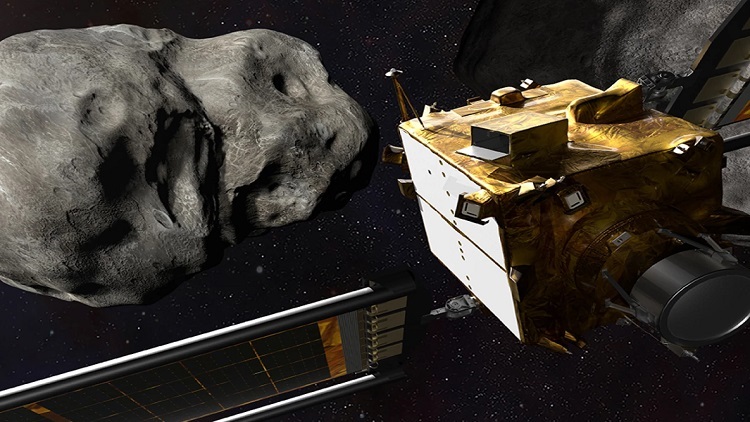 Illustration of the DART spacecraft prior to impact at the Didymos binary system. Source: NASA/Johns Hopkins APL/Steve Gribben
Follow the progress of DART on its far-flung defense mission.